When you think of Japanese food what comes to mind? Sushi or ramen, right?
Throughout Japan Osaka is renowned for its fantastic food. And there's more to Japanese cuisine than just sushi and ramen!

Photo by George N
After years of a love affair with food made from flour, Osaka has perfected the recipes and has reason to boast with delectable dishes.
It all started in the wartime period when there was no food to go around, so everything was made with flour. In Kansai it stuck for two reasons: it's delicious and cheap. Now you can go anywhere in Japan and everyone will say Osaka is famous for foods made from flour.
So, we'd like to introduce to you our 3 favorite flour recipes from Osaka!
Kushikatsu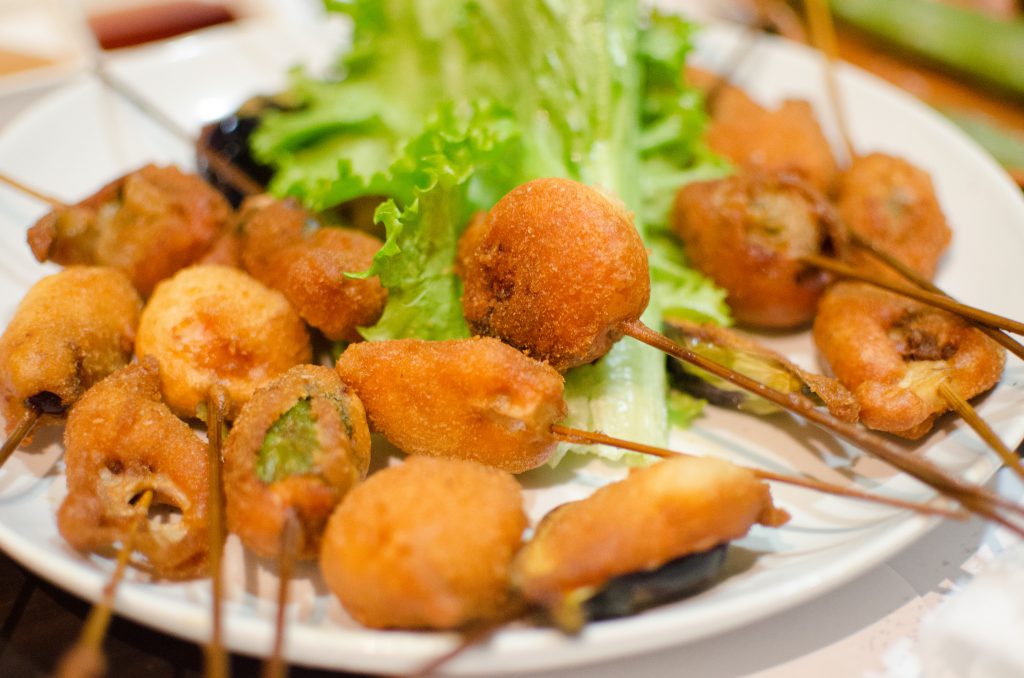 Photo by cotaro70s
Do you like fried food? How about eating skewered food?
If you said yes to both of these questions, then there is no doubt about it–you must try kushikatsu.
Kushikatsu is simply meat or vegetables that have been deep fried and skewered. In its simplicity it opens itself up to a wide variety. While pork and leeks are the standard for kushikatsu, so to speak, you can always find a wide range on the menu. Chicken, mushrooms, onions, even quail eggs–you name it, someone has probably tried to make kushikatsu out of it. Given its simplicity, you could even try to make it yourself!
In Japan Kansai and Kanto are infamous for competing with each other. And when it comes to this dish they can't even agree on a name: in Tokyo you might hear it called kushiage instead! But we think you'll agree that Kansai's kushikatsu wins over Tokyo's kushiage in when it comes to price and variety.
What goes better with fried food than beer? Kushikatsu is no different! You're likely to find kushikatsu at any izakaya (Japanese style bar) you go to because it's such a perfect match.
If you're looking for a great area to go eat kushikatsu we recommend the Shinsekai area near the Tsutenkaku tower–as it's said to have many great kushikatsu shops nearby.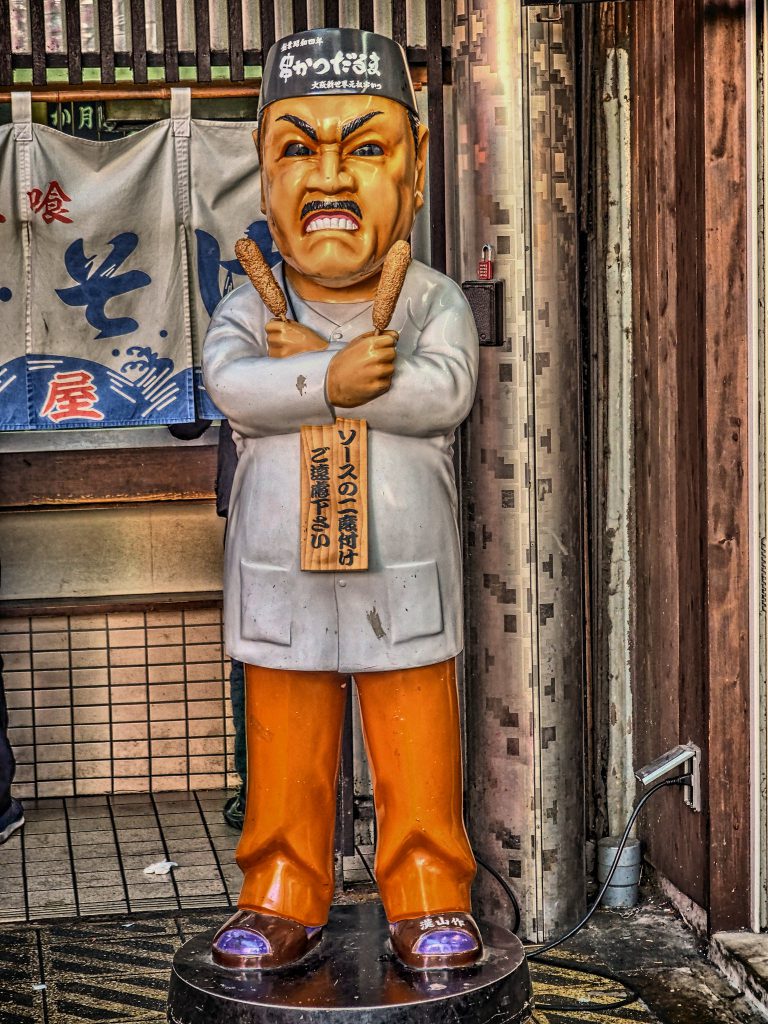 Photo by jun560
Just remember–don't double dip your kushikatsu in the sauce! It's said that if you dip it twice it will change the flavor of not just the sauce but also the taste for all the other items, as the flavors may mix. But also hygienically speaking, the sauce is shared by everyone, so do everyone around you a favor and only dip once! But what if you already dipped once and just can't get enough of the sauce? That's where cabbage comes in–dip it in and pour the sauce onto your kushikatsu for the ultimate saucy experience.
So grab your friends and hit the town for the best kushikatsu around!
Our Recommended Kushikatsu Shops:
Okonomiyaki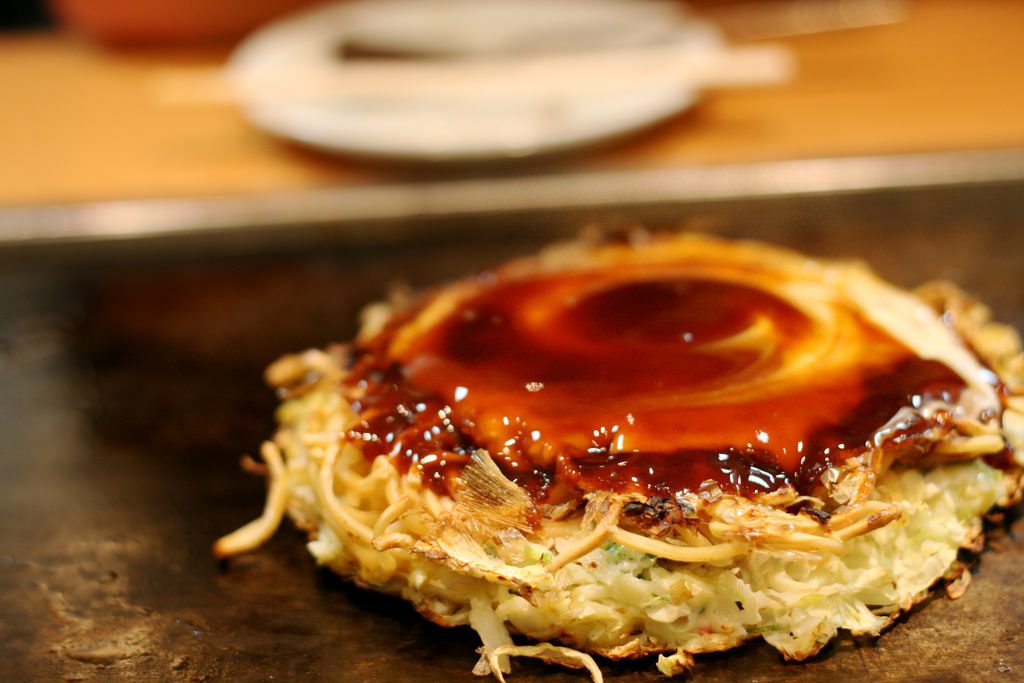 Photo by Sarah-Rose
No other food represents Japanese flour recipes as well as okonomiyaki and takoyaki.
And the city of okonomiyaki is none other than Osaka!

In Japanese, okonomiyaki is a compound word:
okonomi – preference
yaki – cooked
Put together it means cooked how you like it. You can choose any toppings that you like–the sky is the limit for this savory pancake.
If you like meat, go ahead!
If you like seafood, throw it in!
If you like vegetables, load them up!
There's an okonomiyaki for anyone and everyone, because it's made just how you like it.
What's more fun than eating the okonomiyaki of your dreams? Cooking it with friends. While many shops will make it for you, there are some that you can even try to make the okonomiyaki yourself! You could even try making it by yourself at home–it's hard to go wrong.
Our Recommended Okonomiyaki Shops:
Takoyaki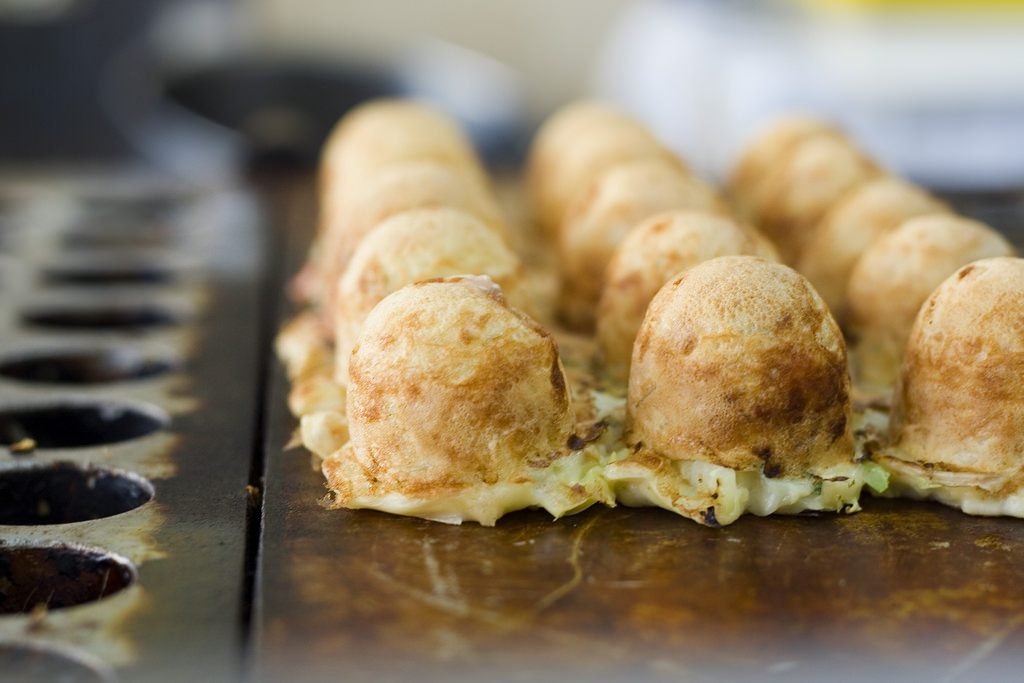 Photo by tab2_dawa
Takoyaki needs no introduction really–it's become a phenomenon around the world.
Even Japanese people have a difficult time choosing which shop to go to when they come to Japan. They are so plentiful that the competition is fierce. With so many shops around, it's easy to find cheap takoyaki just about anywhere. You can even find places with special recipes using corn or cheese as filling together with or instead of the standard octopus.
If you're troubled about where to go, we recommend going to Tenjibashi Rokuchoume and in the nearby area, there will be plenty of great takoyaki shops to choose from. You can't go wrong with whichever one you choose.
Our Recommended Takoyaki Shops: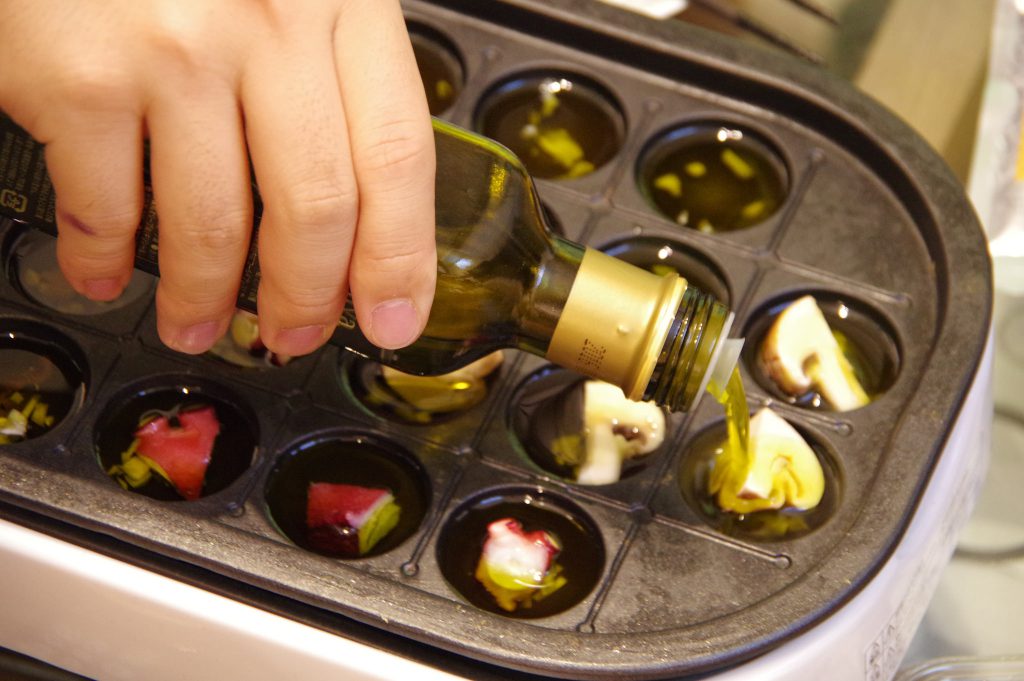 Photo by TAKA@P.P.R.S
As with okonomiyaki, takoyaki is just as fun to make as it is to eat! While the technique for turning the takoyaki balls around in the hot plate may take some practice, to make takoyaki all you need is the batter, octopus, pickled red ginger, green onion, tempura scraps and the toppings–all ingredients you can find easily. You can even mix up the fillings however you want–cheese, corn, mochi, anything you like!
If you don't have the special hot plate to make takoyaki, there are some shops, like the one we recommend below, that you can even try making it yourself. So, grab a bunch of friends and have yourself a takoyaki party!
There's nothing quite like the food in Osaka that can bring people together!
Source of Cover Images:jun560