Where is America-Mura?
It all started around 1969 with a coffee shop named Loop. After its opening, the area began to change with more "American Casual" style shops, with many imports from surfing brands around the West Coast and Hawaii. Thus, it became known as America-Mura, which means American Village.

Even now America-Mura–often shortened to Ame-Mura–is a trendy location in Osaka where you can shop for clothes, enjoy delicious food, or just hang out and enjoy the scenery.
If there is a word to describe Ame-Mura it would be vibrant.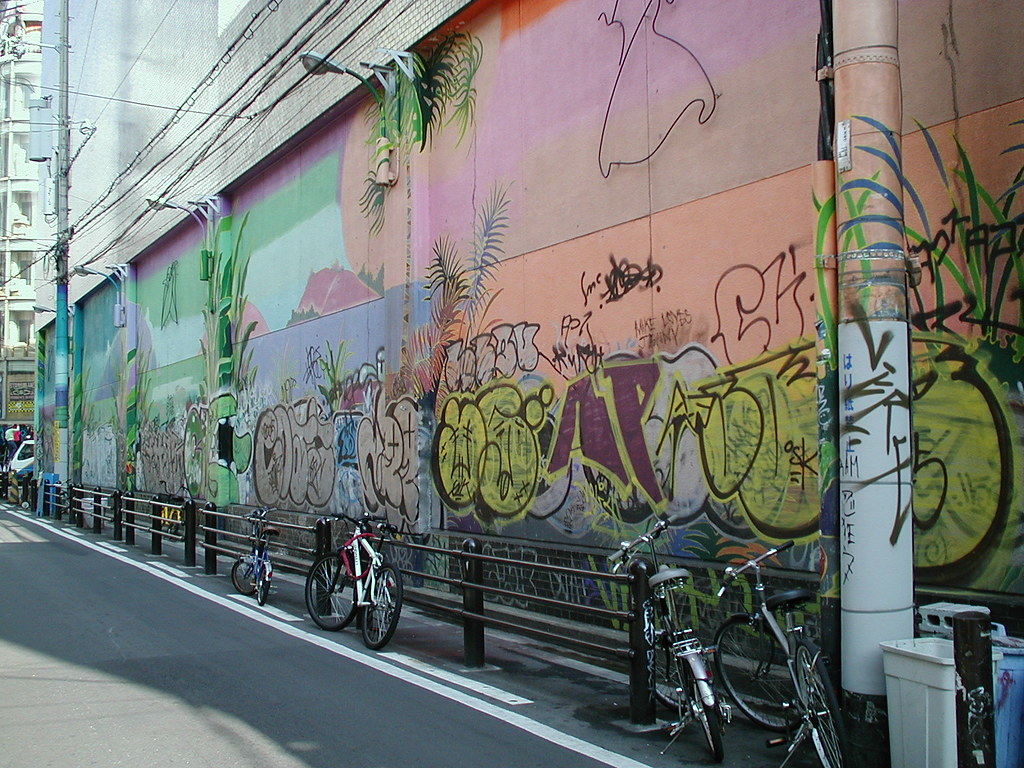 Photo Source:Ore Sama
Check-out the street art, the Statue of Liberty or just people watch. There's always something interesting to see.

One of the larger buildings to visit is BIG STEP, a shopping mall filled with clothing shops, a movie theatre, restaurants, a concert venue, and even a pinball arcade! The movie theater, Cinem@rt, offers a variety of movies old and new–different from those offered elsewhere–very fitting for Ame-Mura, which has a different atmosphere than the rest of Osaka.
The central area of America-Mura is Sankaku-koen (Triangle Park). In fact, Sankaku-koen is the unofficial name that's in fact more popular and well known than the actual name–Mitsu Park. No matter the time of day you'll find people spending time eating, drinking, and all sorts of activities. At Triangle Park it's not unusual for people to bring their exotic pets, practice dancing, or to skateboard despite the "no skateboarding" signs.
This carefree and playful feeling is found all throughout Ame-Mura.

If you have some time to kill, definitely check it out while in Osaka!!
~Something Different: Search at the Thrift Store~
Feel the thrill of being thrifty! The time searching pays off when you find it–the perfect piece. With only one of that item available at the shop, sometimes it feels like fate.
There are many thrift shops in Osaka–so go ahead and search for the items that scream you. Go ahead and save money to find unique clothes to suit your style!

①Pigsty
Pigsty is possibly the most well-known thrift shop in the Ame-mura area. It has many different styles of clothes available, some rare, some new, everything chosen with care.

If you like band & graphic T-shirts, you won't want to miss out on Pigsty! They have an unbeatable collection.
Other Items offered:
*30's~80's vintage clothing
*Ladies second-hand clothing
*Kids second-hand clothing
*Antiques
*Sneakers
If you can't make it to the storefront itself, don't worry! Items with prices listed on the Pigsty blog are available for mail order as well.
②KINJI
On the 2nd floor of BIGSTEP it's super easy to visit KINJI!
Not only that, it's easy on the wallet too–with affordable pricing. Feel like you'll visit there a lot? Make a point card for more benefits!
KINJI has such a large collection it's actually divided up into two stores at BIGSTEP–both worth checking out.
Whether you're searching for women's or men's clothes, shoes, bags, accessories and so on, KINJI has it!
If you've never been thrift shopping before, KINJI is the perfect place to start!
③TIME BOMB RECORDS
If music is more your thing–check out TIME BOMB RECORDS, where they believe music has the power to unite people all around the world.
Search for R&B, soul, punk, pop & more! Whether it's a record, LP, EP, CD TIME BOMB RECORDS has it. It doesn't matter when it was recorded–if it's your first time listening to it it can feel new and fresh!
If you want to search through a different selection of music or maybe hope to find something rare, TIME BOMB RECORDS is a must.
~Satisfy Your Sweet Tooth!~
After shopping, surely you'll be feeling a bit peckish, right~
It's hard not to: surely you've seen people walking around with ice cream, cotton candy and other sweets that you just gotta try.
Don't worry–anywhere you look in Ame-Mura there's a sweetshop ready for you to try!!

①The 2nd Most Delicious Melonpan Icecream in the World! America-mura Shop
Happy New Year🎉

ららぽーと磐田店は、1日より営業してます。
メロンパンBOXが、¥950で販売します🥯

静岡パルシェ店は、3日より営業開始となります。

2019年宜しくお願い致します😊 pic.twitter.com/mYAwe76Fav

— メロンパンアイス静岡パルシェ店 (@mpi_shizuoka) 2019年1月1日
2nd??? It's a funny name but it is seriously delicious–perhaps it might even be the most delicious. You gotta try it to believe it!
Even though it's cool outside right now, the melonpan (melon bread) is nice and toasty~ Even in winter, it's a nice treat.
If the ice cream is too cold–just buy the melonpan to warm you up!👌
②TOTTI CANDY
If you love cotton candy this is the place to go!!
TOTTI CANDY offers large, colorful cotton candy that will surely bring a smile to your face.
Try the Ame-Mura exclusive: Ame-Mura Rainbow Flavor
Want to take it home with you? Grab a cup or bucket of cotton candy instead!
Beware: it's so cute, you may have trouble eating it!

TIP: TOTTI CANDY, Long Softcream–where you can get a 40cm ice cream cone–and The 2nd Most Delicious Melonpan Icecream in the World! America-mura Shop are all lined up. For your sweet tooth cravings, you can check them all out in one go. Yum!🍦
③IKKI KASUTEIRA
Looking for something more…cake-like? Try out the castellas (mini sponge cakes) at IKKI KASUTEIRA!
These small cakes come in a variety of flavors that are sure to delight: plain, chocolate, custard, cheese, green tea!
Better yet you can grab 20 for only 540 JPY! It's a steal~
But that's not all, IKKI KASUTEIRA offers Castellas with Whipped Cream, Chocolate Fondue Castellas, Castella & Ice Cream Parfaits, and more! Whatever you get, it's sure to satisfy your sweet tooth!

④Panbo
Do you remember our blog post about foods in Osaka?
Kushikatsu is a long time favorite in Osaka–so naturally, there's a sweet version in Osaka!
Kushi Pancakes!! That's right: skewered pancakes.
These skewers are layered with pancakes and fruit that can be topped with your favorite sauces such as chocolate or honey and so on!

How do you order? By length!!
Chibi Panbo (15 cm): 300 JPY
Mini Panbo (20 cm): 600 JPY
Panbo (40 cm): 800 JPY
Deka Panbo (80cm): 1600 JPY
It's truly one of a kind!

~Quench Your Thirst with Bubble Tea!~
Recently Bubble Tea has found its footing in Japan and after eating those sweets you'll want something to wash it down with. So go why not see what the fuss is about and try bubble tea in Ame-Mura!
①Ookini Coffee
Newly opened in January, Ookini Coffee is just around the corner, ready to take your order! If you add Ookini Coffee as a friend on LINE, you can even get 1 free drink!
While coffee is in its name, there are a variety of other drinks offered at Ookini Coffee as well–natural bubble tea included!
②Q&D Tapioca
Straight from Taiwan, bubble tea has arrived in Osaka!!
At Q&D you can choose from 4 different flavors: Assam tea, Ceylon Team, Sun Moon Lack Black Tea, and Ruby Black Tea. Each tea comes from Taiwan.
Have it without the tapioca pearls, with them, with milk, or even with tapioca pearls and milk! It's all up to you.

Check out the Taiwan Special: Brown Sugar Latte with Tapioca.
There's even a seasonal drink available–currently Cafe au Leit with Tapioca. Try it before it's gone!
What do the Q&D stand for? Quality and delicious!

③京茶 kyotea
Lastly, we bring you Kyotea!
What's unique here? You can choose the sweetness level as well as how much ice you want! In fact, you can also choose to combine the teas in anyway you like giving you complete freedom with your order.
Kyotea only has one shop: in Ame-Mura. So don't miss out!
~Ookini Hotels Yotsubashi Horie Apartment~
After walking around all day you'll want to get back to your hotel quickly, right?
Well, that's where Ookini Hotels comes in!
Only a 3 minutes walk from Triangle Park, Ookini Hotels Yotsubashi Horie Apartment is in the ultimate location for you to come back to after venturing around Ame-Mura all day!
All rooms come equipped with 2 luxurious queen-sized beds for a great night's sleep.
There's plenty of space for you to stretch out, relax, and look at all the great items you bought during your trip!

Sometimes it's nice to just have a day for shopping and indulging. There's no better place for it than Ame-Mura!
Source of Cover Image: Erich Stüssi