A New Relaxing Location in Shimanouchi & Karahori
Not so far off from the hustle and bustle from Shinsaibashi and Namba you'll find places like Shimanouchi and Karahori. While these areas may have less foot traffic, they both have so much to offer! Recently, new trendy and novel cafes have been popping up. Want to try something new? Here's the latest info for you~

◆Neco Republic: Cat Sento & Cat Inn
---
Opened in July this year is the brand new Neco Republic: Cat Sento & Cat Inn! "Sento" is a public bath in Japan and the concept here is just that: a cat sento. Sunbathing, forest therapy (aka forest bathing), are all good for one's health. Just like that, when you drown yourself with a bunch of loveable furballs, you can't help but feel better. Looking for some specific treatments? How about the "Cat Heating Pad Therapy." Let the cat's natural warmth warm you up–you'll be feeling better as the tension leaves your body~~ How about "Gorogoro Therapy" where you listen to the cats rolling around? "Mofumofu Therapy" petting the cats soft fluffy (mofumofu) fur~ As you relax and enjoy your time with the cats, they also adapt to spending time with humans to prepare for being adopted! It's beneficial for all participants. The fees to play with the cats, as well as any purchases at the store will go towards paying for the cats food & vet bills.

◆Shoshikissa Mori
---
Bandes dessinées, graphic novels, comics and more–do these sound like your cup of tea? Well, how about grabbing a cup of tea while reading them?? At Shoshikissa Mori you can have them both! This cafe is located in Karahori, in a renovated home from the Meiji era! You'll feel cozy and ready to hunker down and read in this rustic cafe. And when you walk in there it is a wall from top to bottom full of bookshelves, and, of course, books. These comics are from all over the world: Asia to Europe and more, and are all translated into Japanese. You'll find all sorts: cute, cool, spooky, and everything in between. Surely you'll find a book that sticks out to you, begging you to sit down and read it right then and there. For food and drinks, you can expect a Russian theme: Russian soup, pirozhki, sweets, and drinks. If you love comics, this will be your new favorite cafe to visit!

=- Ookini Hotels – =
---
Ookini Hotels has a few locations Right here in Shimanouchi, and close to Karahori! You can easily visit these new cafes during your stay with us.

1. Ookini Hotels Shinsaibashi Nagahori Apartment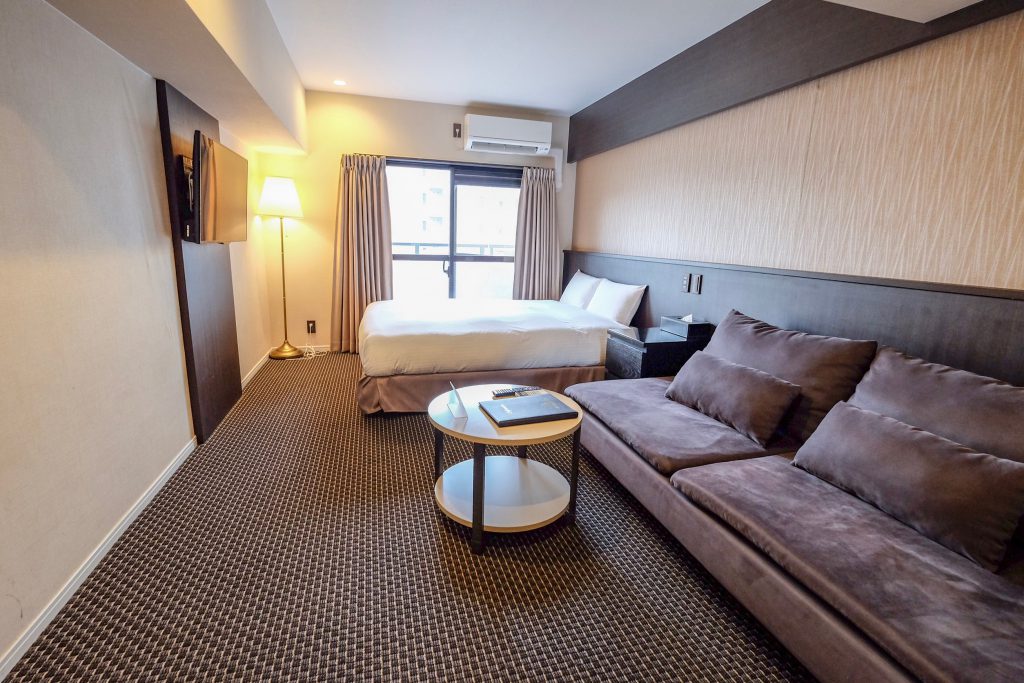 Only 3 minutes from Nagahori Station, with plenty of restaurants all around, Ookini Hotels Shinsaibashi Nagahori Apartment is a great choice for your stay in Osaka. Shinsaibashi is just 1 stop away on the subway, or a short walk–whichever you prefer–making this location super convenient for you stay. There are several room types for whether you are traveling alone, as a couple, family, or group!

See our previous blog!
☞~Your Home in Japan: Ookini Hotels Family Style Rooms~
2. Ookini Ryokan & Apartment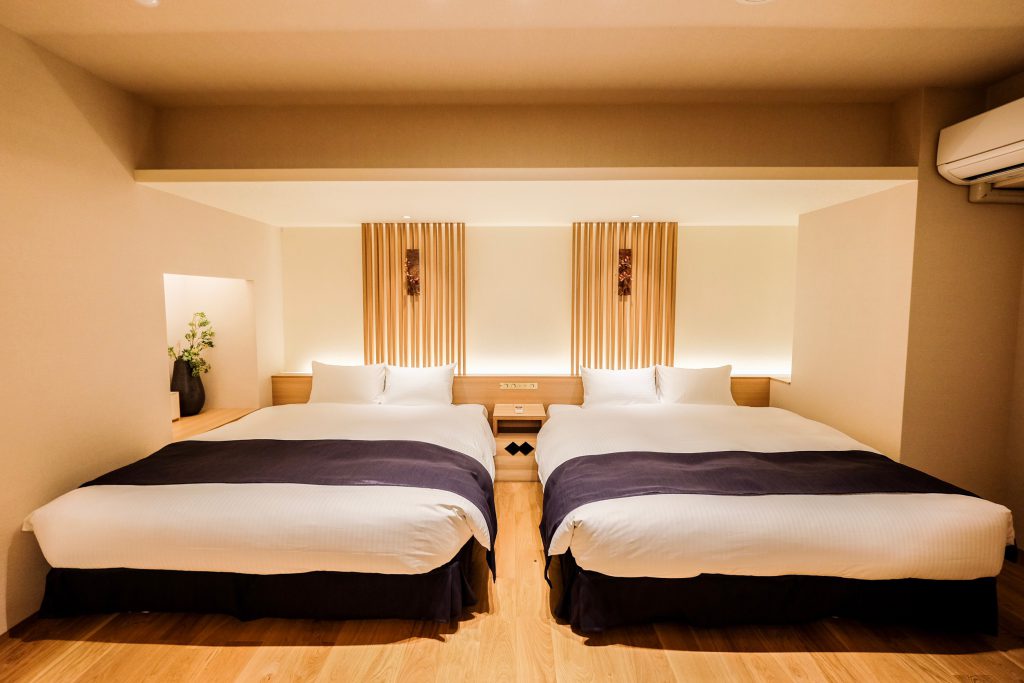 Looking for a ryokan experience with a modern feeling? You don't have to go far: Ookini Ryokan & Apartment is right here in Shimanouchi! There are Japanese style tatami rooms with Japanese futons as well as more Western rooms with a Japanese influenced design. Rooms are available for all sorts of groups, you'll surely find the perfect room for your stay with us.

See our previous blog!
☞~Ookini Ryokan & Apartment: A Modern Ryokan Experience~
3. Ookini Hotels Higashi-Shinsaibashi Apartment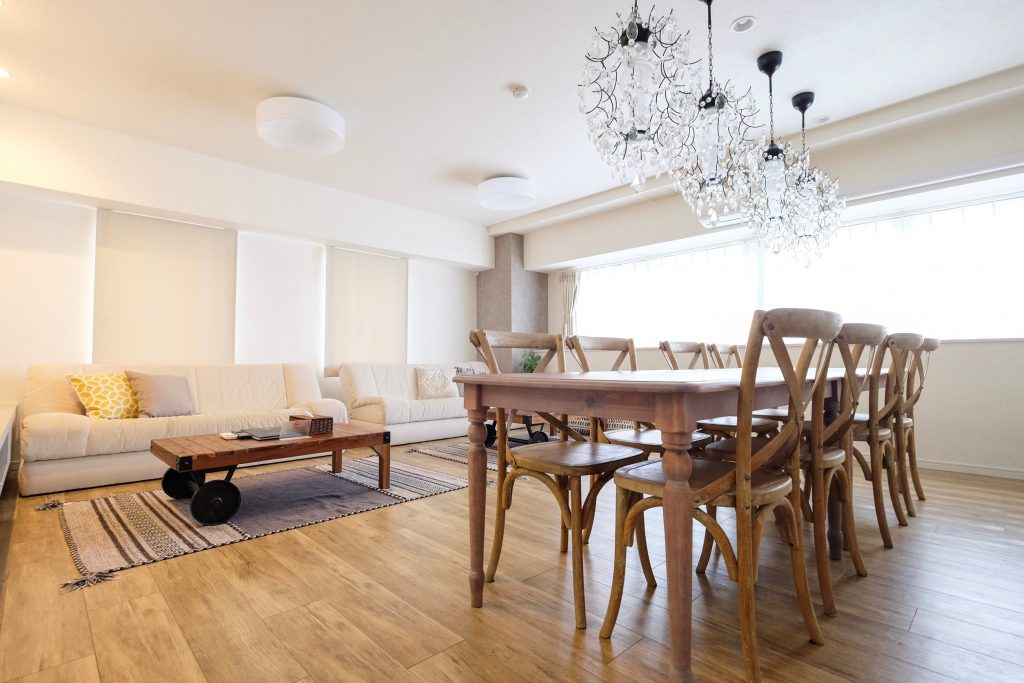 Located in the same building as Ookini Ryokan & Apartment! This facility offers slightly different services. For example, all rooms are self check-in and self check-out–perfect for any traveler looking for to come and go quickly, without any hassle. These rooms are made to accommodate large groups too–so no need to reserve multiple rooms! Everyone can stay together.