The leaves are turning and it's starting to cool down from a hot summer. Autumn or fall, whatever you call it, is here, and it brings all of its wonderful flavors: apples, pears, chestnuts, pumpkin and more!
That's what this blog is all about: to whet your appetite for all the limited edition snacks and alcohol coming out this fall!


Fall Only!! Autumn Alcohol This 2019
When you're browsing around for something to fit the season keep your eyes out for 秋限定 (fall only) on the label! You'll most often see it on beer, but there are plenty of limited edition booze for this fall from companies such as Suntory, Asahi, Kirin, and so on. The packaging is fall themed of course, but that's not all! Of course, it will taste so good that you'll wish it was available all year round.


◆Alcohol◆
1.Beer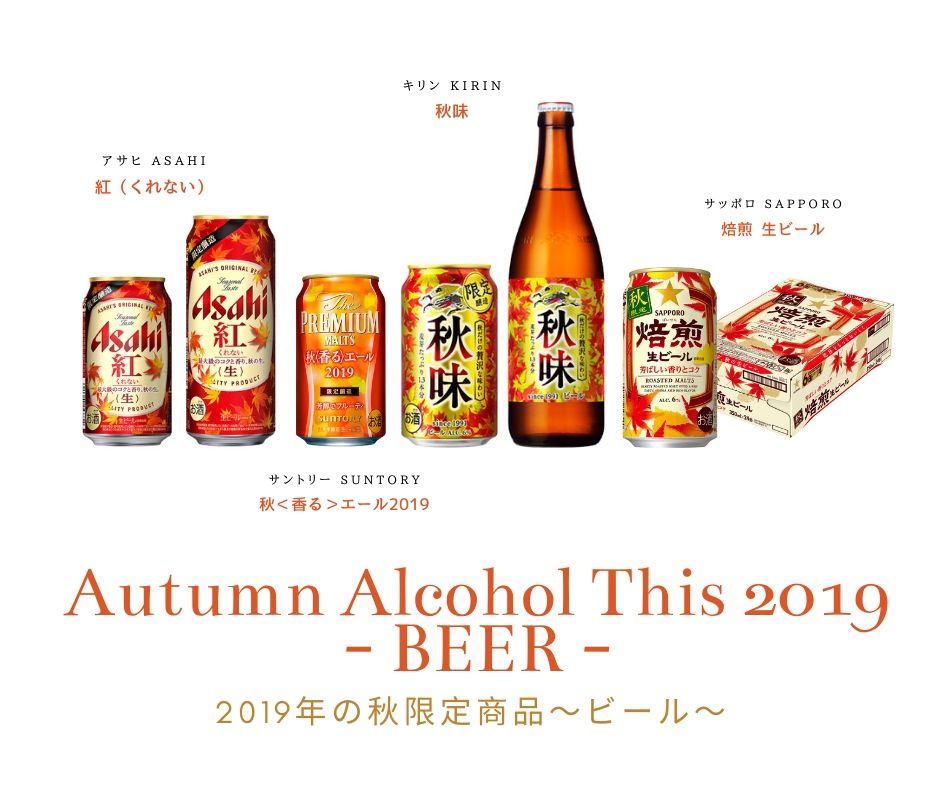 ①Asahi: Asahi Kurenai
Of course, as you'd expect from Asahi: a fall themed beer! If you love super dry, this is a beer you won't want to miss out on. With its fall themed packaging, you'll just want to take it home when you see it!

②Suntory: Autumn Fragrant Ale 2019
Famous for its premium malts and sparkling liquors, Suntory also has a fall edition for each of these items!
With the Autumn Fragrant Ale, you're in for a fragrant beer–which will certainly boost the flavor profile. Yum!

③Kirin: Autumn Flavor
28 years and going: Kirin's Autumn Flavor is back! This product is only for Autumn season, and it about 1.3 billion cans have already been sold so far! The malt is 1.3x normal, giving it its deep flavor. Perfect for fall!

④Sapporo: Roasted Flavor
Sapporo city, the soul of Hokkaido! Its only fitting that the beer from Hokkaido bears the same name. You won't want to miss out on Sapporo's fall flavored beer.
Sapporo's premium beer is loaded with the taste and fragrance of fall! The amount of roasted malt has increased, giving it a truly delicious flavor.

2.Low-Malt Beer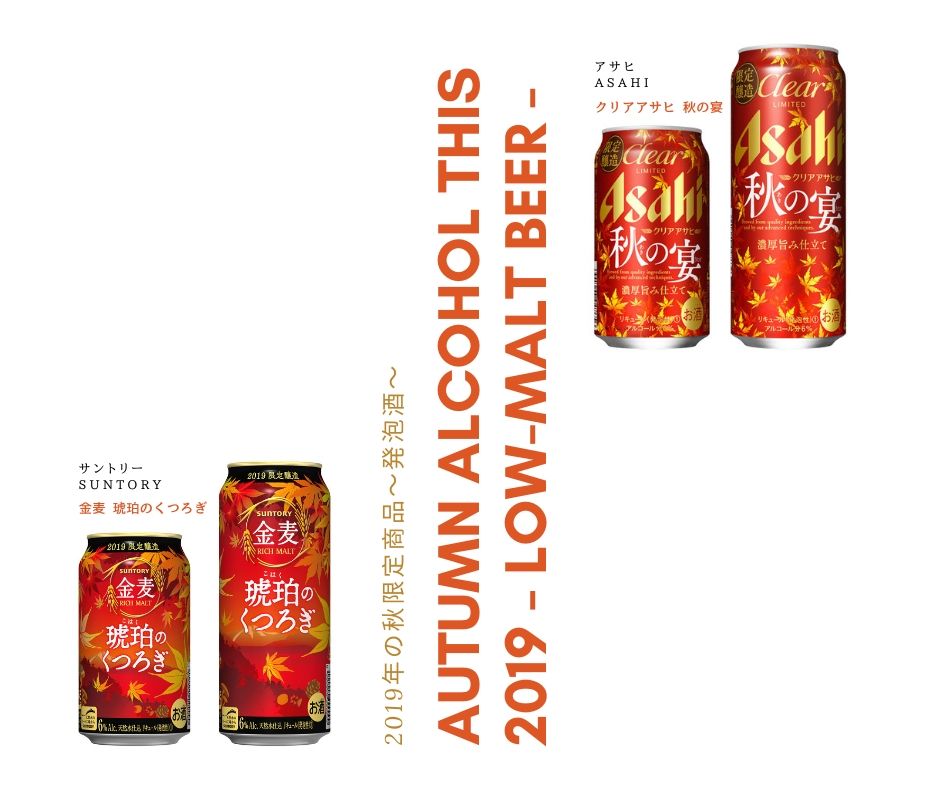 ①Clear Asahi – Autumn Party
Even if it is a low-malt beer, it stands up to Aasahi's Kurenai! As a cheaper option, it's easy to enjoy! With its roasted flavor, this low-malt beer fits right in with the autumn collection.

②Suntory: Kinmugi Kohaku no Kutsurogi
This may be our personal favorite this season of the low-malt beer!
Roasted malt is used in part to balance the flavor, while still keeping its alcoholic content at 6%. A perfect blend for autumn!


3.Chuhai (Shochu Highball)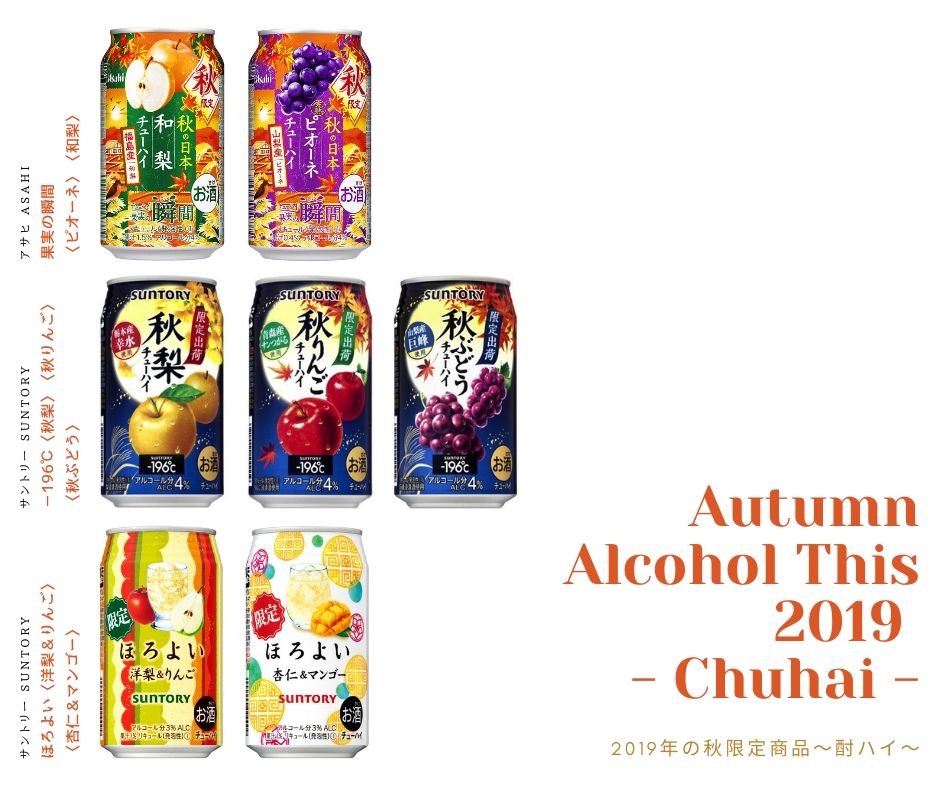 ①Asahi: Asian Pear & Pione Grape Chuhai
If you're looking for something a little more fruity, chuhai is a great option! If you're looking for a chuhai packed with great fall fruit flavors such as pear and grape, this is the choice for you!

②Suntory: Fall Pear, Apple, & Grape Chuhai
Asahi's rival company, Suntory, has naturally released their own take on fall flavors with these limited edition chuhai flavors as well! Try both brands to find your favorite.

③Suntory: Horoyoi Apple & Pear Flavor and Apricot & Mango Flavor
A staple in the chuhai family: Ladies' choice – Horoyoi! If you're looking for just a little bit of a buzz and big flavor, horoyoi is always a great choice. Horoyoi has limited items all year round, not just for fall, so you can always find new and exciting flavors to try!

◆Fall Only!! Convenience Store Sweets & Treats◆
Autumn is truly the season of fruits and sweets. The limited-time flavors of fall might just be the tastiest of all seasons! And luckily, not only are there plenty to try, they're widely available at convenience stores.


①7-Eleven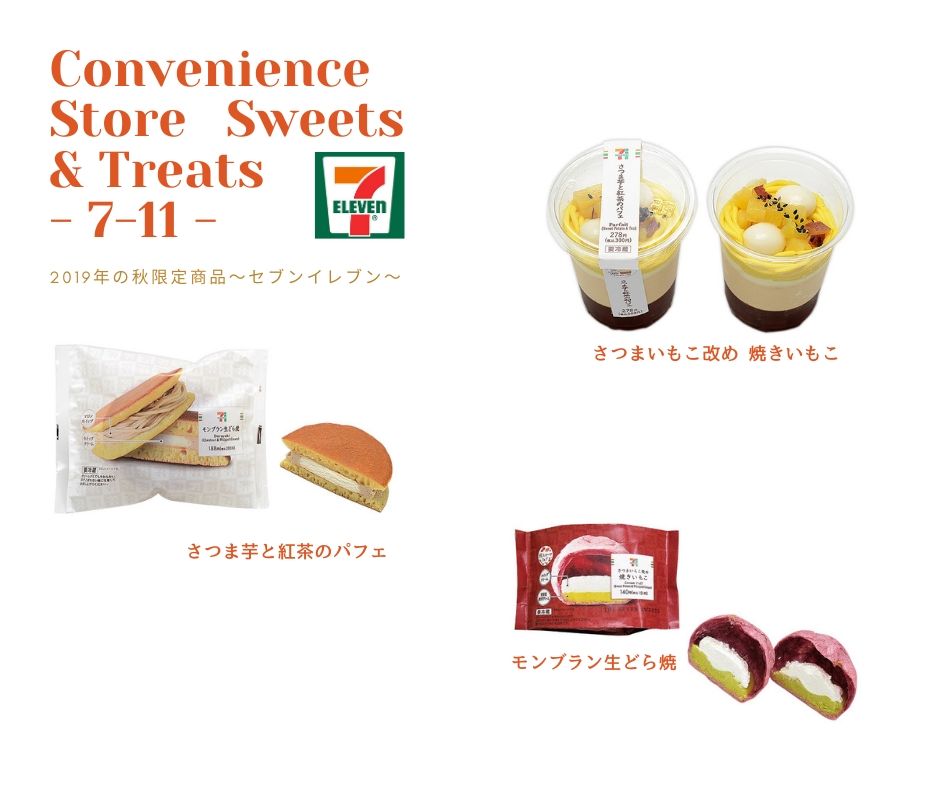 1. Parfait (Sweet Potato & Tea)
This treat is gaining in popularity! Once you bite in you'll see why. Packed full of sweet potato flavor, this parfait is a great representation of fall. Once you get one spoonful, you won't be able to stop!

2. Cream Puff (Sweet Potato & Whipped Cream)
While the package may look like an onigiri rice ball, inside you'll find a cream puff that's the best combination of whipped cream and sweet potato cream. A sweet blend fitting for fall!

3. Dorayaki (Chestnut & Whipped Cream)
Another fall flavor that you just won't want to miss out on: chestnut! This dorayaki is a perfect blend of fall and Japanese flavors: chestnut and white bean paste combine to make an autumn dorayaki.

②Lawson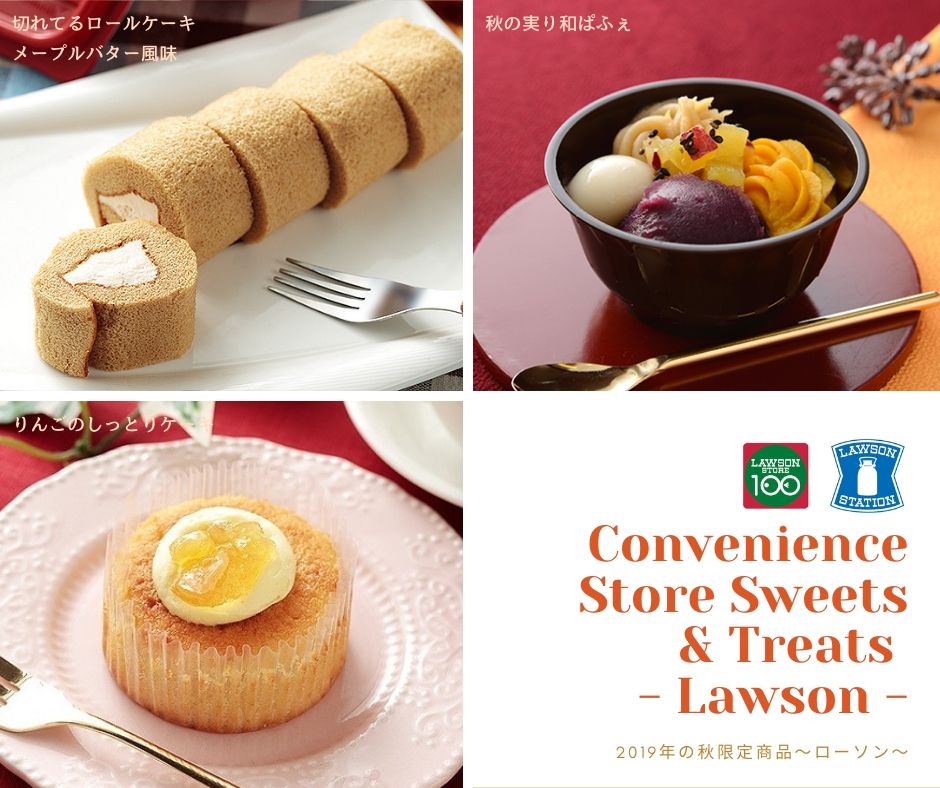 1. Harvest Season's Japanese Parfait
Sweet potatoes, chestnuts, pumpkin–in this parfait you will find all the flavors that pop into your mind when you think of fall. One bite is like autumn in your mouth! And isn't it delicious?!


2. Cut Roll Cake (Maple & Butter Flavor)
Maple! That's the flavor that was missing so far. How can you have a fall feast without something maple-flavored?! The maple & butter flavor pre-cut roll cake is the answer to all of your maple cravings, joining the other Cut Roll Cake flavors at Lawson.


3. Apple Cake
This apple cake is a delectable dessert to remember with its moist and soft custard. Every bite will be packed full of apple flavor. Custard cream, sweet and sour diced apples, a medley of flavors you must try.


③Family Mart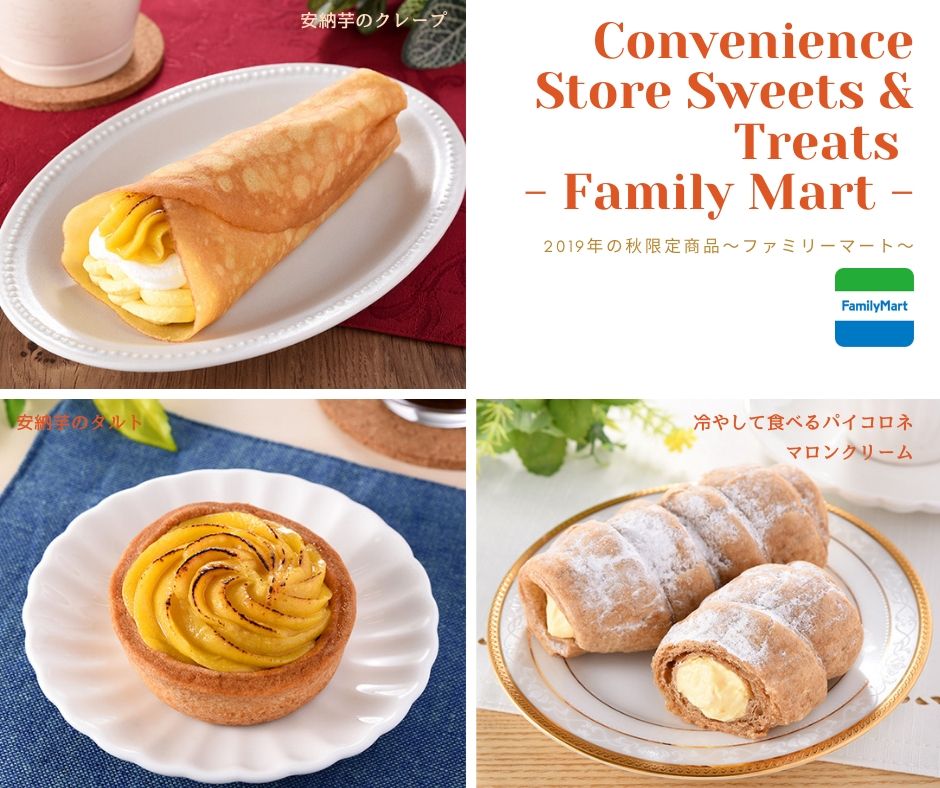 1. Sweet Potato Crepe
A crepe filled to the brim with sweet potato flavors! Sweet potato and whipped cream are such a delicious combination, you won't be able to stop once you take a bite.

2. Sweet Potato Tart
From the same series as the sweet potato crepe, you can get a tart if you want a smaller portion size, for a quick sugar fix. Even with its small size, you'll find it's full of flavor.

3. Chilled Pie Kifli (Chestnut Cream)
This unassuming treat has recently gained a following of fans. Easy to see when it's so delicious! With its chestnut cream filling and crispy dough, it's perfect for those who are looking for something that's not overly sweet.


Is your mouth watering thinking about all the flavors of fall? Are you ready to dig into these treats?
Well then you better hurry, hurry! They're only here during the fall season. Don't miss out on all these yummy fall edition foods.