When you're traveling reserving a room with a washing machine can make all the difference with packing. When you have a washing machine in the hotel room you don't have to bring as many clothes–no need to worry about your luggage weight being too heavy and you can save extra room to bring souvenirs back. To help with planning for your big trip, we're going to introduce our rooms with washing machines today.

An ordinary hotel may have a laundry service available; however, not many include washing machines in the rooms.
When it comes to a laundry service, you may have your clothes washed and even pressed. If you have clothing like a suit, this may be better. But… if you just want to wash your underwear or regular clothes a laundry service might be a bit excessive, right?
If you think you may want a washing machine in your room, the rooms we introduce in this blog are what you'll want to keep your eye out for when reserving!

At Ookini Hotels, in general, there are rooms with washing machines available, and in certain facilities, there is a communal laundry room available with coin-operated machines.
For the coin-operated machines, 300 JPY is required to but in comparison to the usual laundry service fee, it's a bargain for sure.
The washing machines that are placed inside of guest rooms may, of course, be used free of charge.
Regardless of which type of washing machine is available, we are able to provide laundry detergent for you.
---
tor"/>
●The merits of a washing machine
– No need to bring tons of clothes!!
When you wash your clothes during your stay you can rewear some items. Even if you stay 10 nights, you only need to prepare 2~3 outfits because you can wash your clothes at the hotel. Not only does it save space in your luggage, but it makes planning that much easier. It can be hard to come up with so many outfits for 10 nights after all!

– No need to bring home dirty clothes!
It's happened to us all before: we've worn our clothes once during the trip, taken them home, opened up the bag and… pee-ew!! Those clothes that sat in the bag all that time are now stinky! Having to take care of laundry right when you get home can put a damper on your mood after a wonderful trip. When your room has a washing machine you can wash your clothes before you leave and come home with outfits that are all ready to be put back in the closet!

– Wash them as soon as you need to!
We never really plan to get our clothes dirty but sometimes it just happens: a drink is spilled and bam your clothes need to be washed immediately. It's not something that can wait until you get home, or it will be stained! When a washing machine is in your room there's no need to wait: you can wash your clothes and make sure that stain and have peace of mind knowing your clothes won't be ruined.

**Need an iron? Just let us know and we'll do our best to prepare one for you~!Quantities are limited and they are lent out on a first-come-first-served basis.
---
tor"/>
●Coin Operated Washing Machines
There are plenty of coin-operated laundromats throughout the city… but have you ever used one?
Here we'll take a moment to explain how to use the coin-operated machines in the communal laundry room at Ookini Hotels Dotonbori Apartment.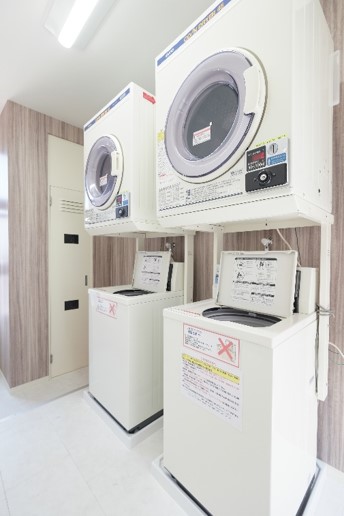 – Washing Machine –
Step 1: First check the machine! Is someone else's clothes in there already…?
Step 2: Insert 200 JPY (Only 100 JPY coins are accepted!)
Step 3: Press the "Shower" button within 10 seconds of inserting the money
Step 4: Once the "lid lock" light has turned off, put in your clothes and laundry detergent
Step 5: Close the lid and it will automatically start

– Dryer –
Step 1: Once again, please check the machine to make sure no one else's clothing is already in there
Step 2: Place the clothes in one by one (Please do not put every item in all at once)
Step 3: Clothes the lid, insert 100 JPY and you're good to go!

That's all you need to know to wash your clothes at Ookini Hotels Dotonbori Apartment! Instructions and pictures are also placed inside the laundry room, no worries.
---
tor"/>
●Ookini Hotels's rooms with washing machine
Check it out: our facilities that have rooms with washing machines!
– Ookini Hotels Nipponbashi Apartment
– Ookini Hotels Shinsaibashi Nagahori Apartment
– Ookini Ryokan & Apartment
– Ookini Hotels Higashi-Shinsaibashi Apartment

**While the machine types vary at each facility and even may vary from room to room–there's no need to stress about how to use the machines. We provide instructions in the welcome book that is placed in the room.
So, without further ado, let's look at the rooms with washing machines!
Ookini Hotels Nipponbashi Apartment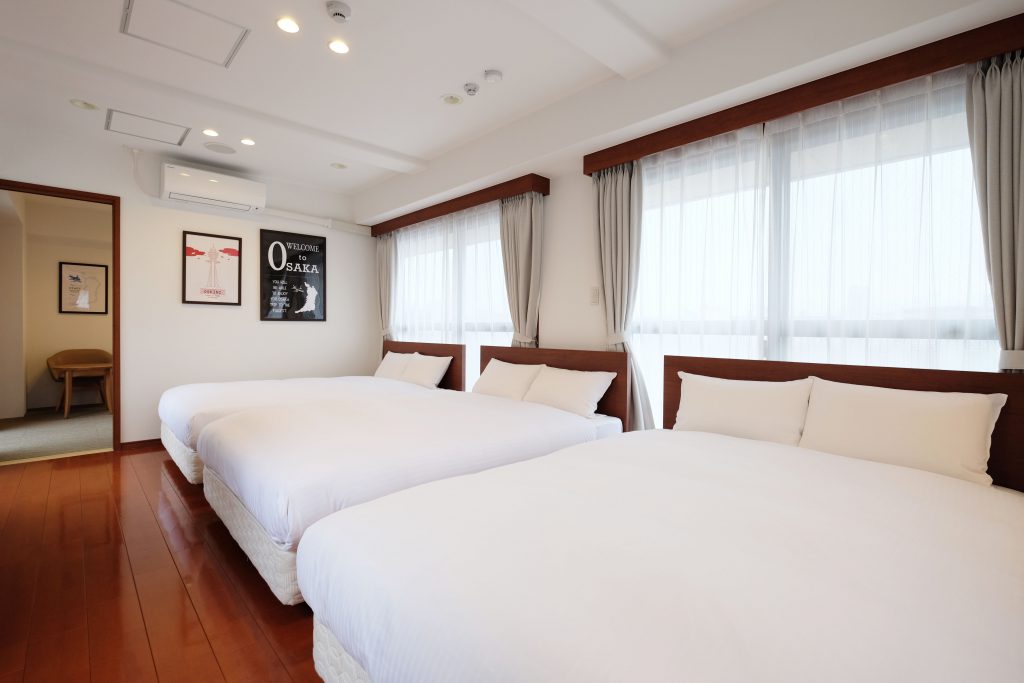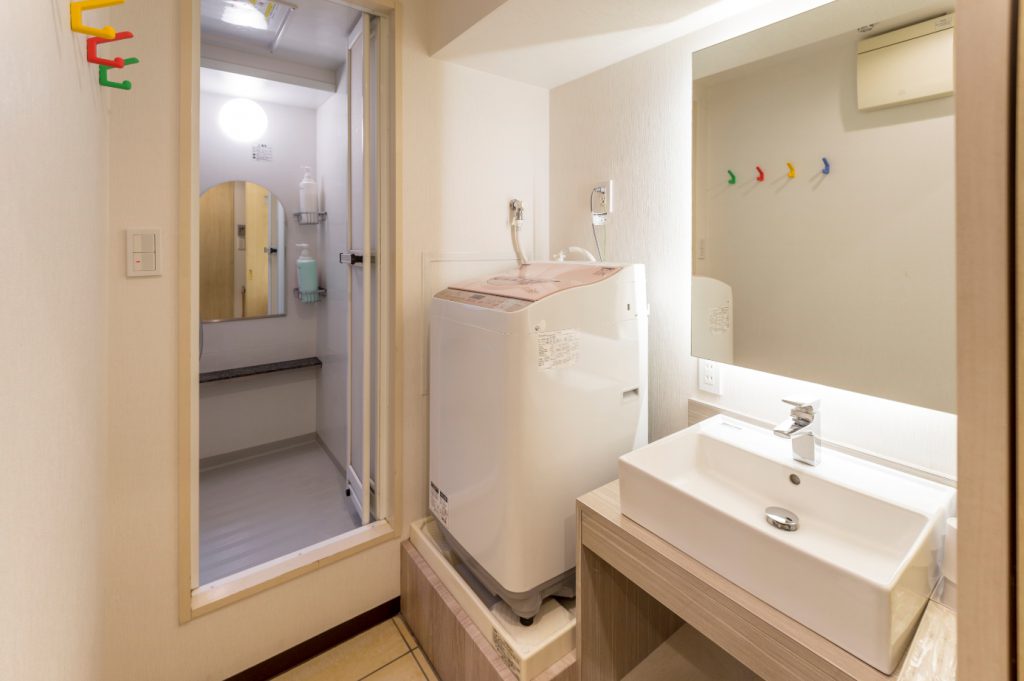 All rooms at Ookini Hotels Nipponbashi Apartment have a washing machine available! Just choose the room that suits your group best. We have rooms available that can accommodate up to 4 guests, up to 6 guests, or up to 8 guests!

Reserve now: https://rebanga-nipponbashi-ookini-hotels-jp.book.direct/en-gb
Ookini Hotels Shinsaibashi Nagahori Apartment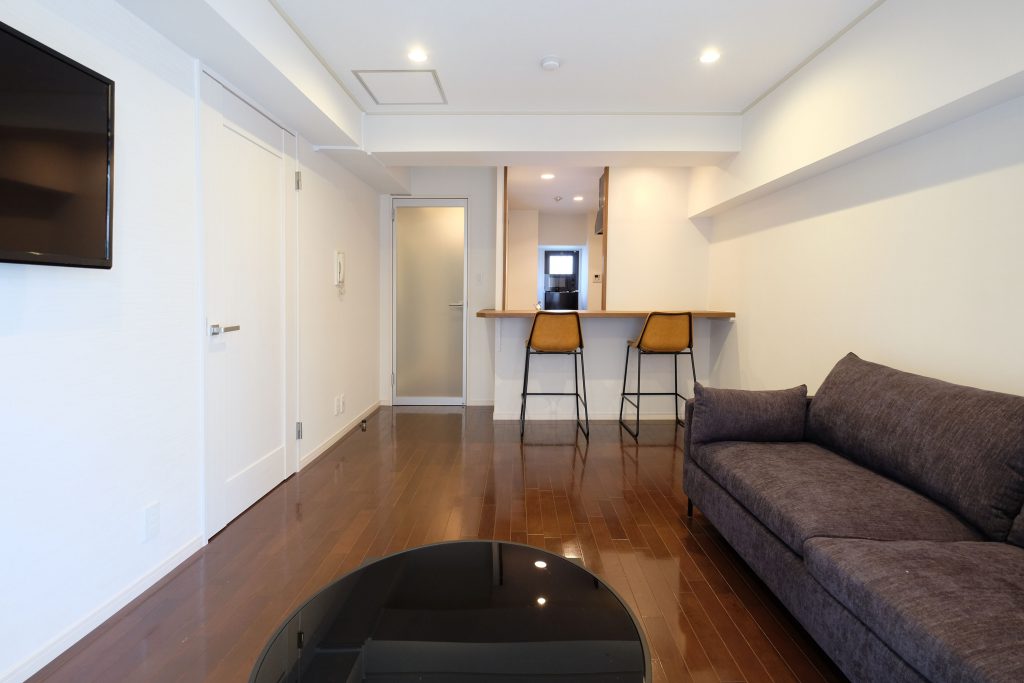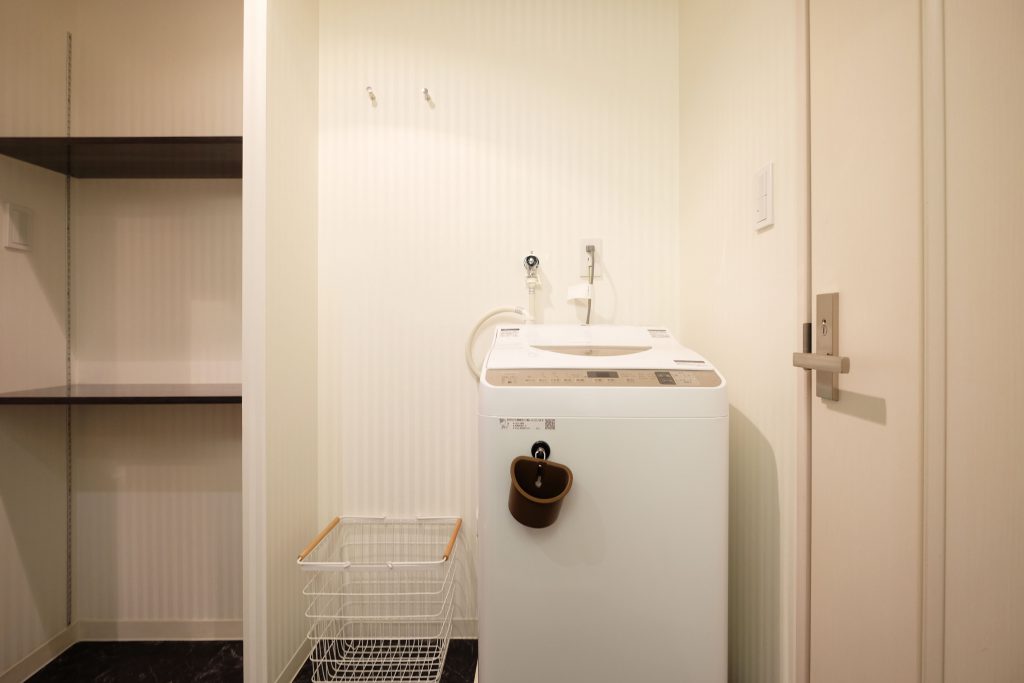 There are two room types with a washing machine available: the "Superior Apartment" with 2 queen beds and the "One-Bedroom Apartment" with 2 double beds.
The superior apartment will give you all the space you need with its roomy open floor plan. If you prefer to have the bedroom and living room separated, we recommend the "One-Bedroom Apartment."

Reserve Now: https://ookini-hotels-shinsaibashi-nagahori-apartment-jp.book.direct/en-gb
Ookini Ryokan and Apartment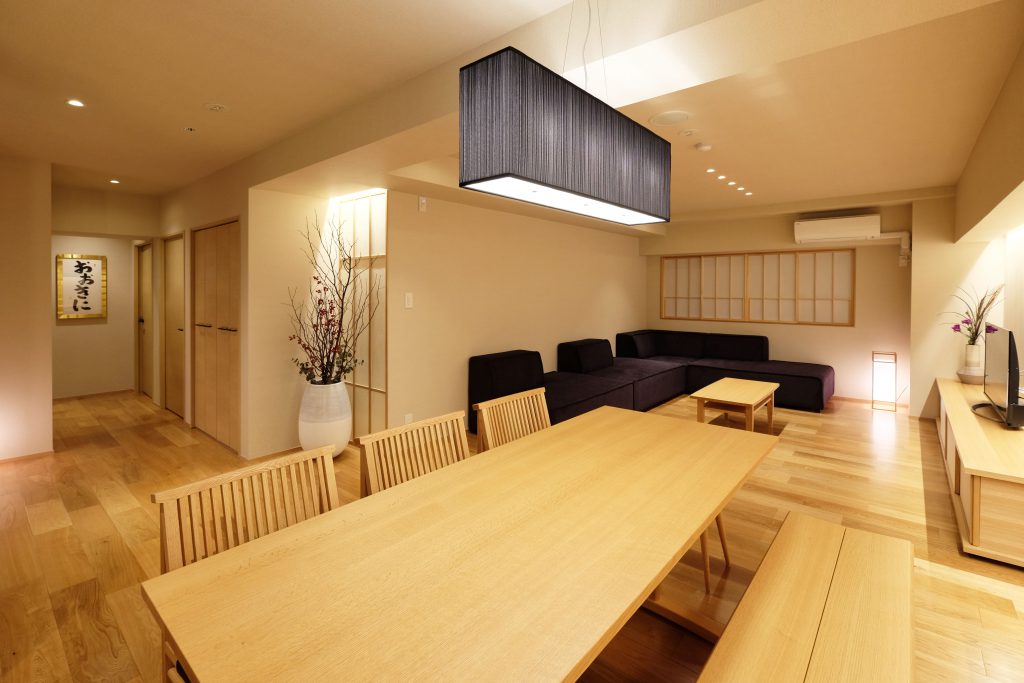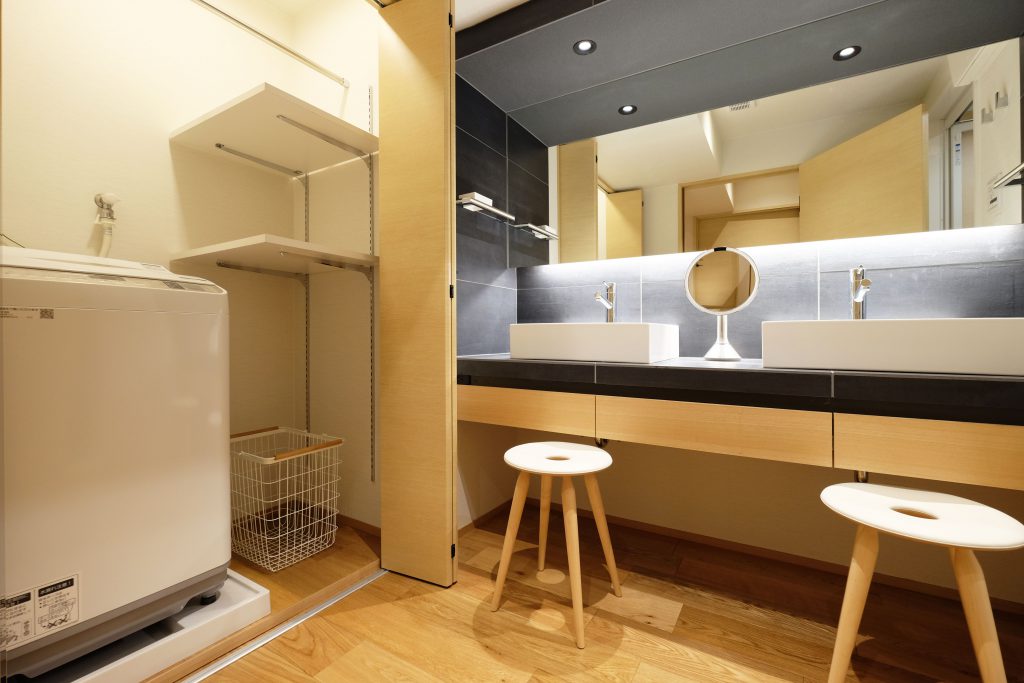 You can look forward to a washing machine in these four room types!
1. One-Bedroom Apartment — 2 queen beds, up to 4 guests
2. Apartment with 2 Beds — 2 double beds, up to 4 guests
3. Comfort Apartment — 2 double beds, up to 4 guests
4. Two-Bedroom Apartment — 2 queen beds & 4 single beds, up to 8 guests

If you're looking for something with a modern take on Japanese design, we recommend Ookini Ryokan and Apartment!

Reserve Now: https://ookini-ryokan-and-apartment-jp.book.direct/en-gb
Ookini Hotels Higashi-Shinsaibashi Apartment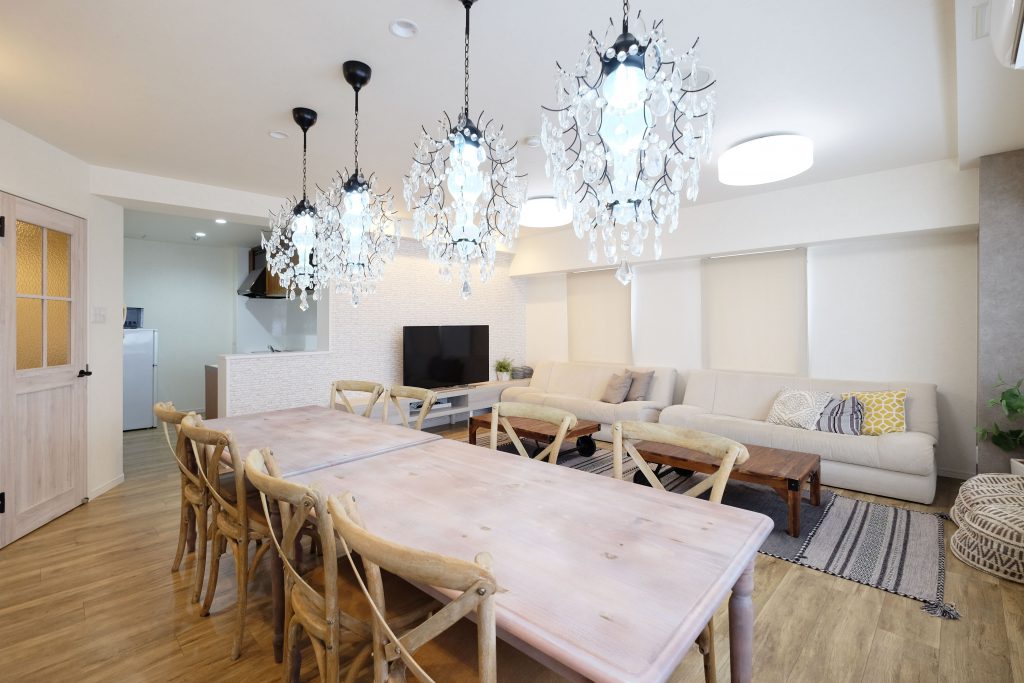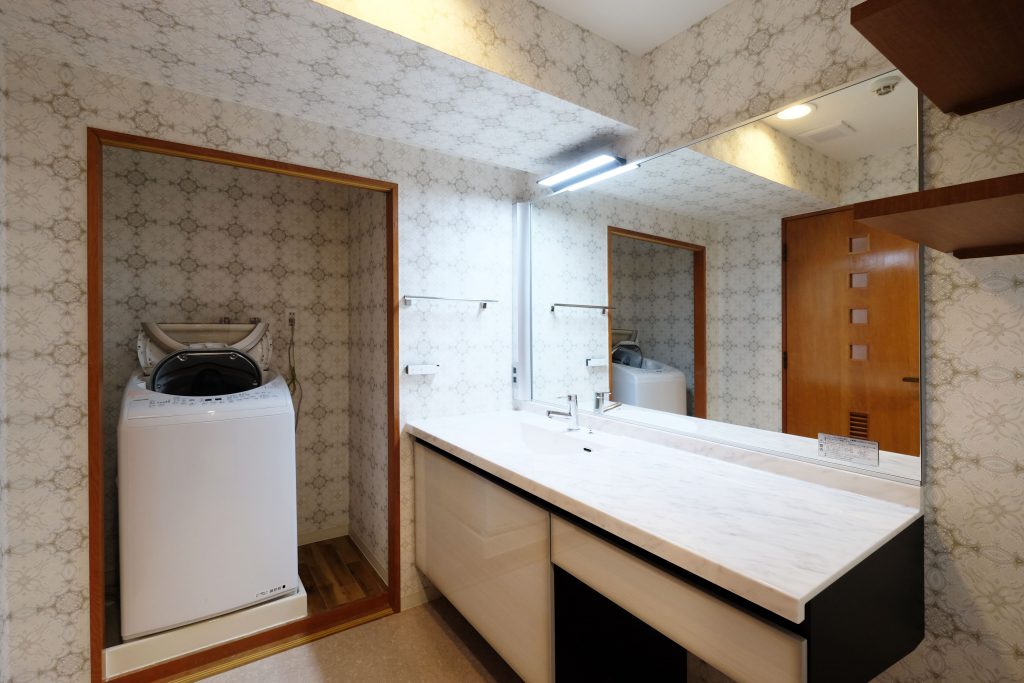 Ookini Hotels Higashi-Shinsaibashi Apartment is located in the same building as Ookini Ryokan and Apartment.
There are 2 rooms with a washing machine available here!
1. Luxury Apartment – a spacious room that can accommodate up to 3 guests
2. Grand Room – great for large groups! Up to 8 guests OK!

Reserve Now: https://www.agoda.com/ja-jp/shinsaibashi-east-design-apartment/hotel/osaka-jp.html
**Ookini Hotels Higashi-Shinsaibashi Apartment's Official Reservation Page is Coming Soon!!

At Ookini Ryokan and Apartment and Ookini Hotels Higashi-Shinsaibashi Apartment, there's no need to fret if you book a room without a washing machine: there's a laundromat nearby that's only 30 seconds away on foot!
In addition to a washing machine, all the rooms we have introduced have a kitchen available as well! These rooms might just be the perfect fit for your stay.
You can cook, clean, and feel at home in Osaka with Ookini Hotels!

———————————
★Receive special benefits when booking directly with us on our homepage★
Homepage: http://ookinihotels.com/en/rooms/