Imagine this: you've finally made it to Japan for vacation!
What do you want to do? Go sightseeing? Go shopping? Eat at Michelin rated restaurants? You're probably thinking, "I want to do it all!!" right?
For those who want to get the most out of their stay without spending all of their money keep reading for our guide on how to do it all in Osaka with a budget of 10,000 JPY for the day!! You may not believe it's possible but with the right tricks and tips you can do it!
OSAKA AMAZING PASS 2018!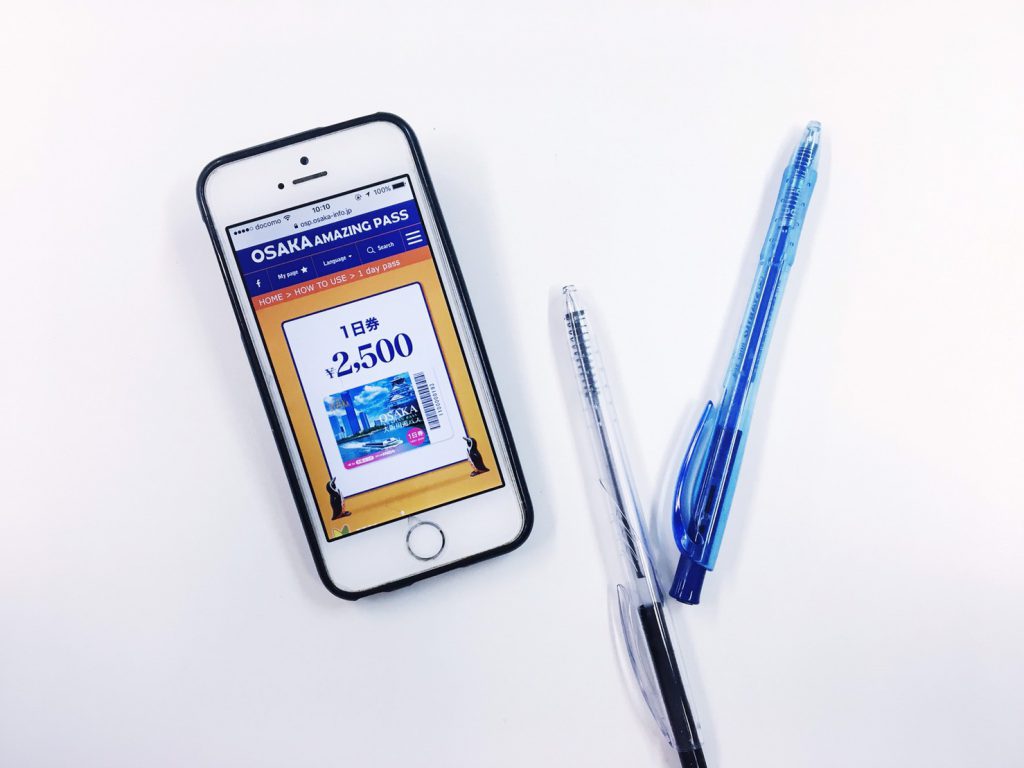 First and foremost transportation can eat away at your budget faster than anything. So, why not buy a pass that you can use all day to ride the subway, city buses and several private railways as much as you want? With the nice price of 2,500 JPY for a one day pass, it's a no-brainer!!
To sweeten the deal, there are multiple facilities that will give you privileges and discounts with the Osaka Amazing Pass!! Not only are you saving on transportation, but also the places you're going to see. It really is an amazing pass.
Now that you know how you're going to travel it's time to think about what to do and where to go.
//// MORNING ////
– 黑門市場 Kuromon Ichiba 8AM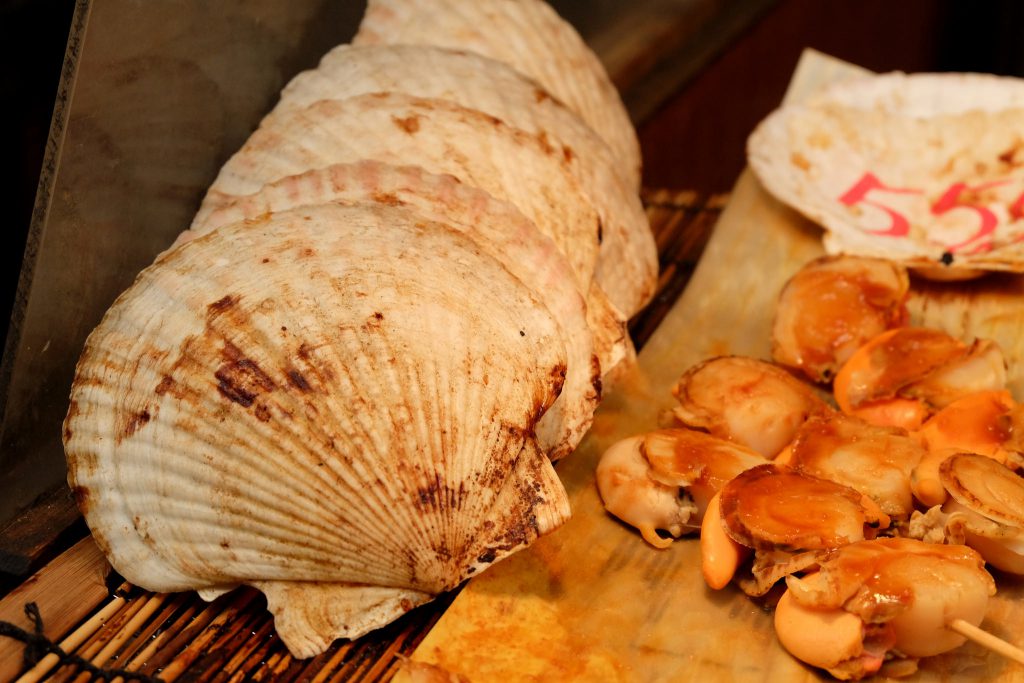 Photo credit:Michelle Lai Lai
Do you remember our earlier blog post about Kuromon Ichiba? Well, if you were thinking about going before, take the chance now!
Out of the 150+ shops, plenty open early enough for you to peruse at the start of the day. Buy your breakfast or souvenirs or just take a look at this bustling market.
[Rich_Web_Tabs id="2″]
– 天王寺動物園 Tennoji Zoo 9:30AM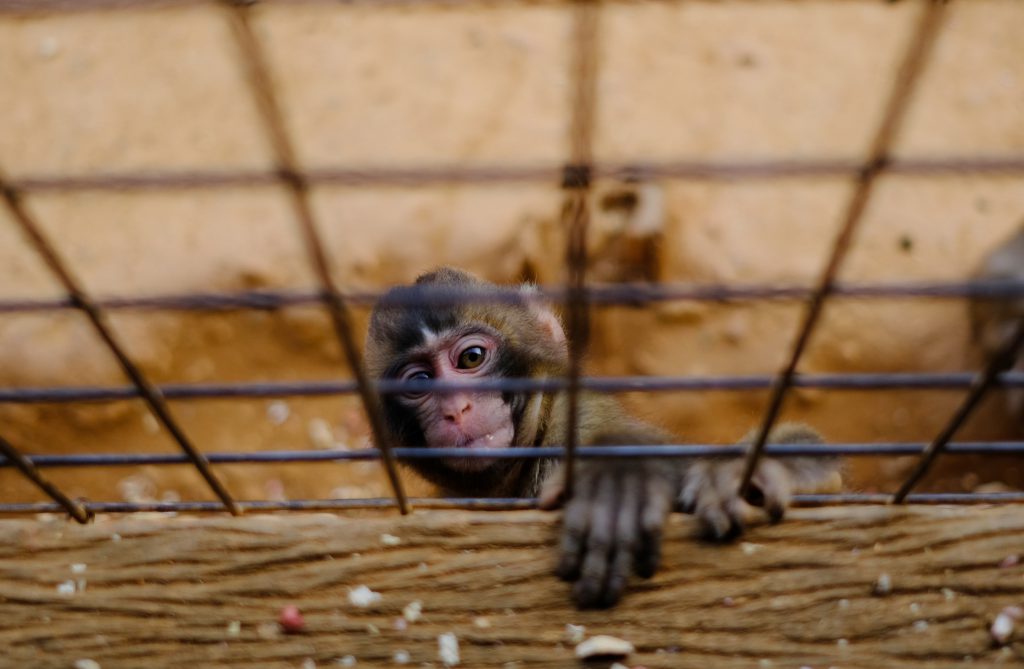 Check out one of the oldest zoos in Japan! Tennoji zoo has more than just a longstanding history to offer–it houses over 1,000 animals!! Moreover, you'll find that Tennoji zoo doesn't have simple cages for the animals to sit in. Each enclosure does its best to recreate the habitat that the animal lives in–giving you a feeling like you're seeing them in their natural environment!

[Rich_Web_Tabs id="3″]
– LUNCH: Fry it Yourself! @ Shinsekai Kushikatsu Viking Daitouryou(串カツバイキング 大統領) 12:00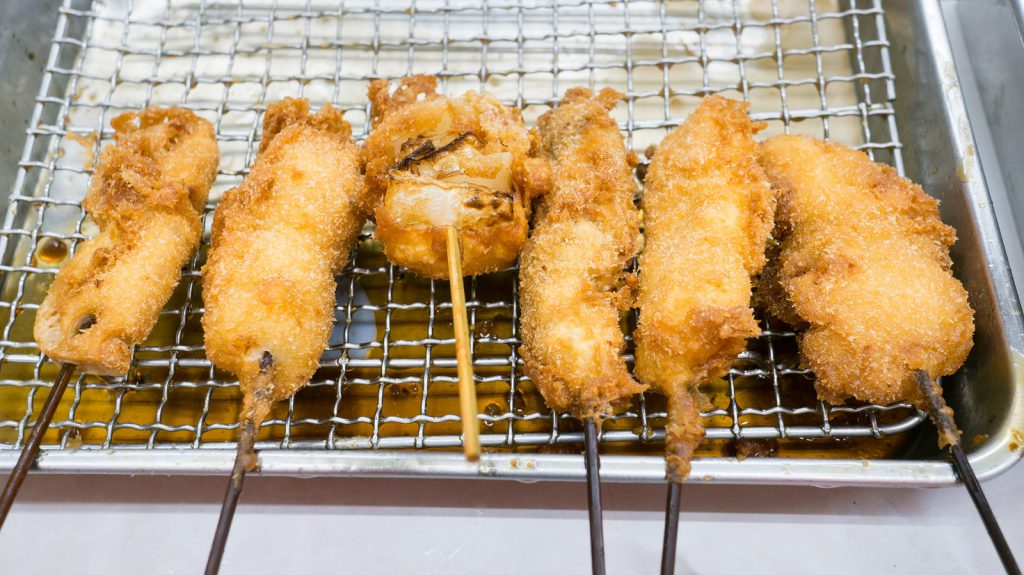 Photo credit:olivier797
Before you start wondering what vikings have to do with Japan or their delicious fried foods, let's explain. In Japan a buffet style restaurant is called a viking restaurant. So, this restaurant isn't a themed restaurant at all–unless you count "all you can eat!!" as a theme.
"All you can eat" sounds great right? And for the price of 1000 JPY for 60 minutes, it's perfect for your next stop!
At Shinsekai Kushikatsu Viking Daitouryou you can fry and eat as much kushikatsu as you want. Make kushikatsu however you like it, just remember, don't double dip in the sauce!
[Rich_Web_Tabs id="4″]
– 通天閣 Tsutenkaku 13:30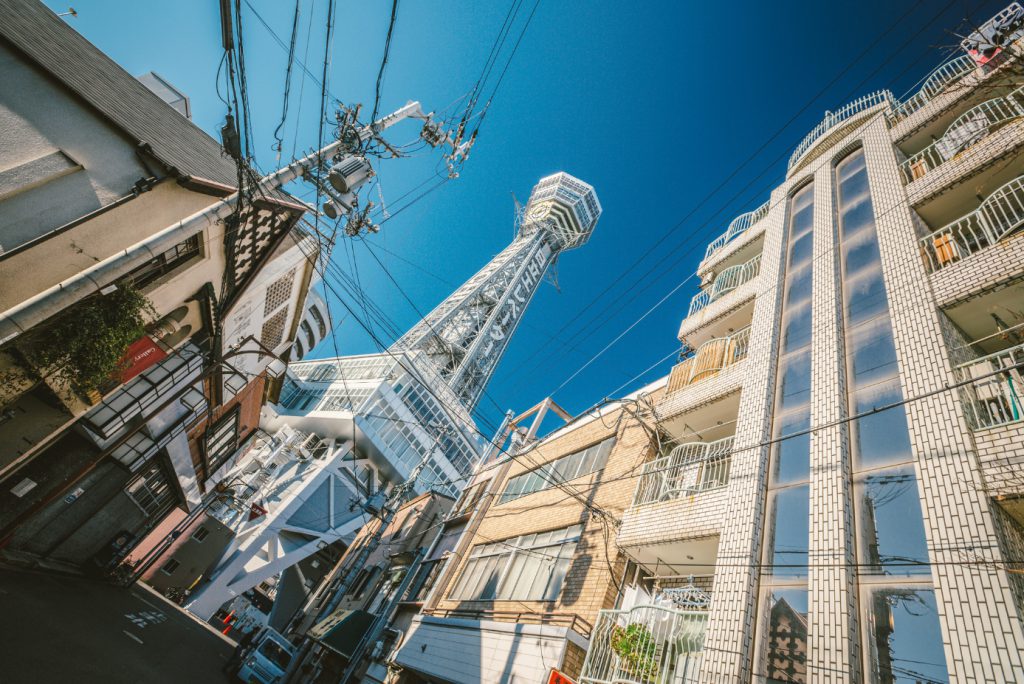 Photo credit:hans-johnson
Enjoy the great view at the Tsutenkaku tower on the 5th floor viewing deck! Take in the sights and take pictures for Instagram. This tower is considered the Eiffel Tower of Osaka and has long been thought of as the symbol of Osaka. It's a must-see spot!
While there, rub the feet of the smiling Billiken statue for good luck!!
[Rich_Web_Tabs id="5″]
– 大阪城天守閣 Osaka Castle 15:00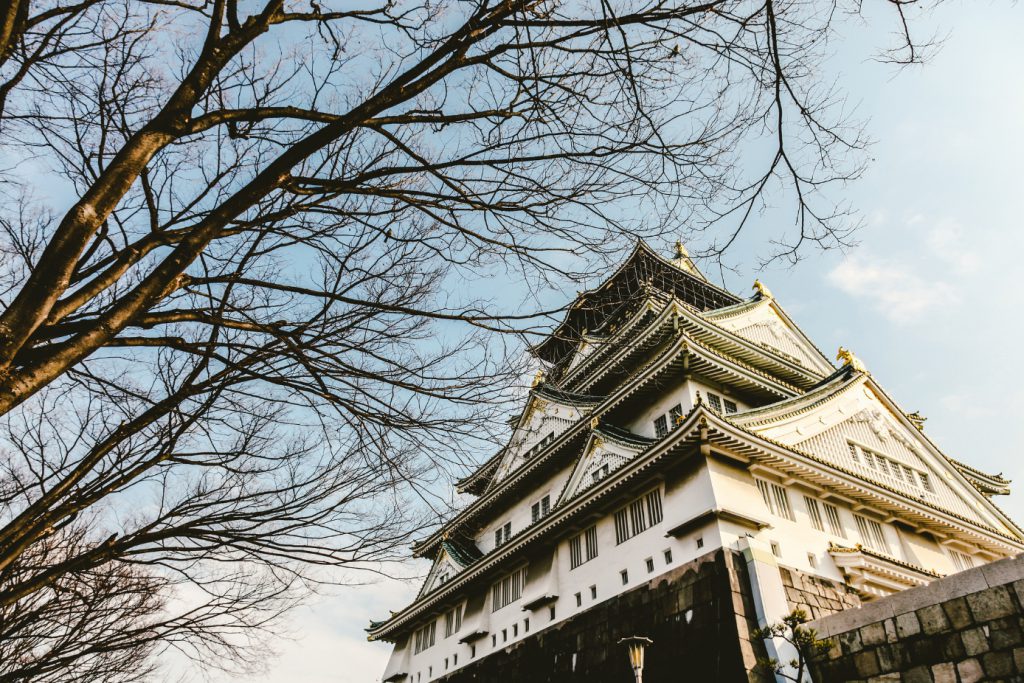 Every season brings a different view to Osaka Castle, making it a great location to visit at any time of year. From the top of the viewing platform, you can see all across Osaka City. Inside the castle you can learn about its history in the Osaka Castle Museum.
[Rich_Web_Tabs id="6″]
– 梅田空中庭園展望台 Umeda Sky Building Kuchu Teien ~The Floating Garden Observatory~ 17:30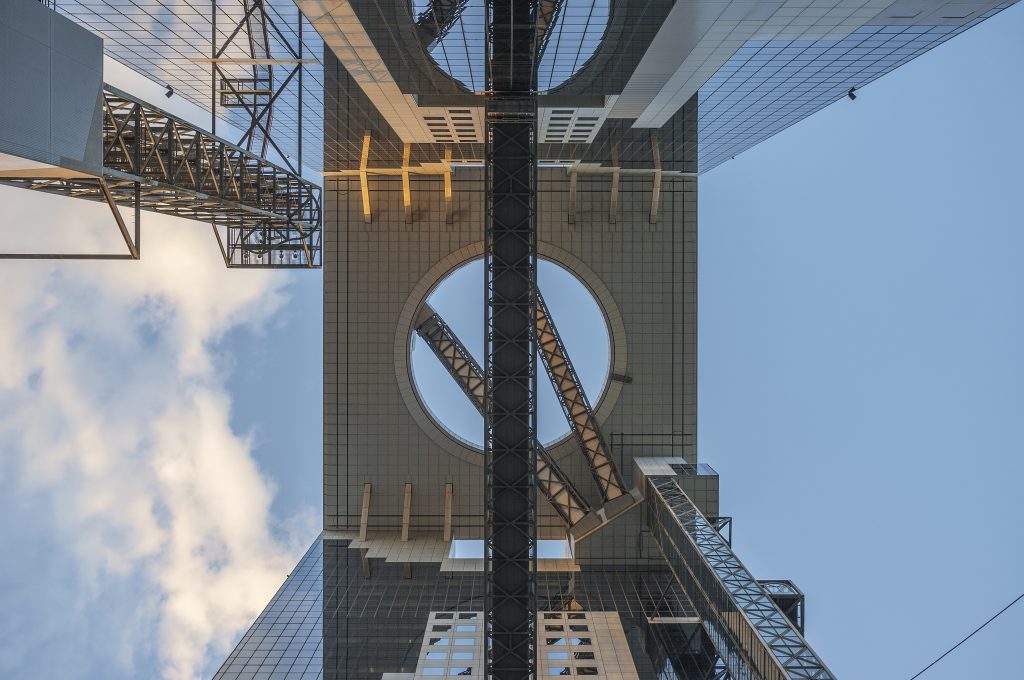 For another breathtaking view of Osaka, Kuchu Teien is the place to go. With a 360° view of Osaka and Awaji Island–there's nothing like it! On the rooftop, you can even feel the strong winds directly giving you a thrilling experience. In the basement of the skybuilding, you can also check out the Showa Retro Shopping Street and pretend like you took a time machine back to the Showa Period.
[Rich_Web_Tabs id="7″]
//// NIGHT ////
– Dinner 19:30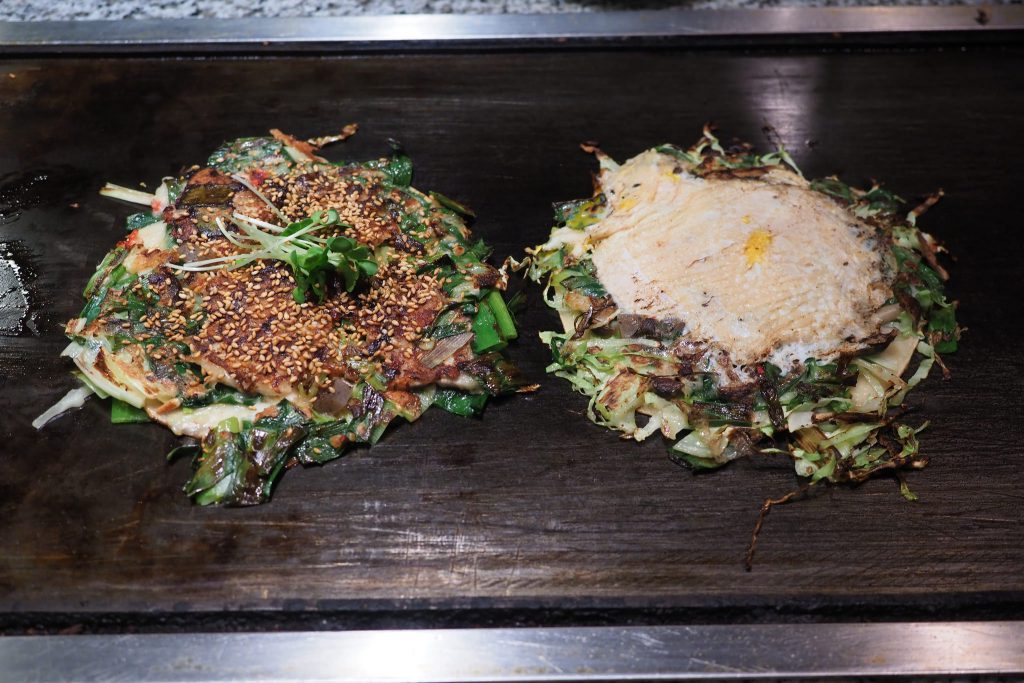 Photo credit:othree
While in Osaka don't miss out on the chance to try okonomiyaki! When people think of food from Osaka, it's one of the first things that comes to people's minds. And while you're at it, you can try it at a restaurant listed in the Michelin Guide!!
We recommend the long established okonomiyaki restaurant Ajinoya.
Founded in 1964, this restaurant has a 52 year history! It's stayed within the family this whole time, now on the 4th generation. Try out the specialty "Ajino Mix-yaki" and see for yourself why it's so popular! This restaurant has been listed in the Bib Gourmand 2016 Michelin Guide as a great restaurant you can eat at for under 5,000 JPY.
[Rich_Web_Tabs id="8″]
– 道頓堀 Dotonbori 20:30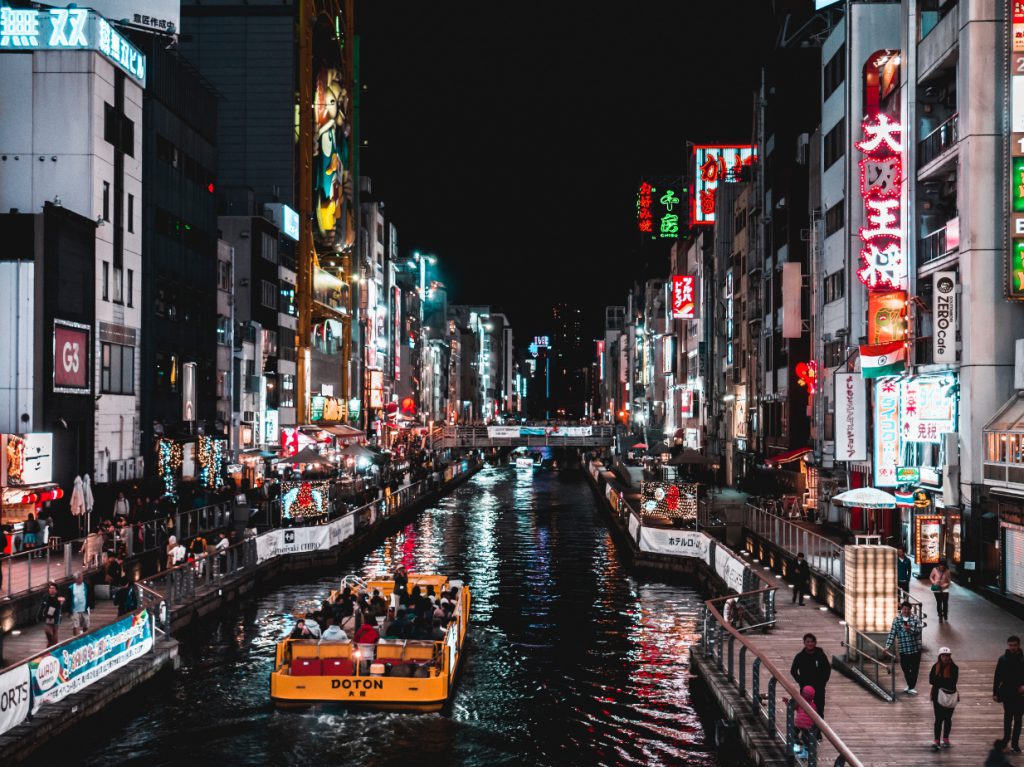 After all that walking we invite you to sit down and relax on the Tombori River Cruise. In this 20 minute cruise through Dotonbori's canal, you can see the sights in a relaxed atmosphere. See Glico up close! Here's your chance to take plenty of pictures of the bright nightlife of downtown Osaka.
[Rich_Web_Tabs id="9″]
If you finish earlier than expected, you can take the time to browse the shopping arcade. You can pick up some extra souvenirs with all the money you saved today!! Most stores close around 21:00.
On the other hand, if you're still hungry, you can check out the food in Dotonbori! Why not try out another one of Osaka's specialties, takoyaki?
/// Ookini Hotels Ota-Road Apartment ////
At the end of your full day we're ready to welcome you!
Ookini Hotels Ota-Road Apartment is located near Nankai Namba Station–within walking distance from Dotonbori. Depending on the room type, a room can welcome up to 2 or 4 guests.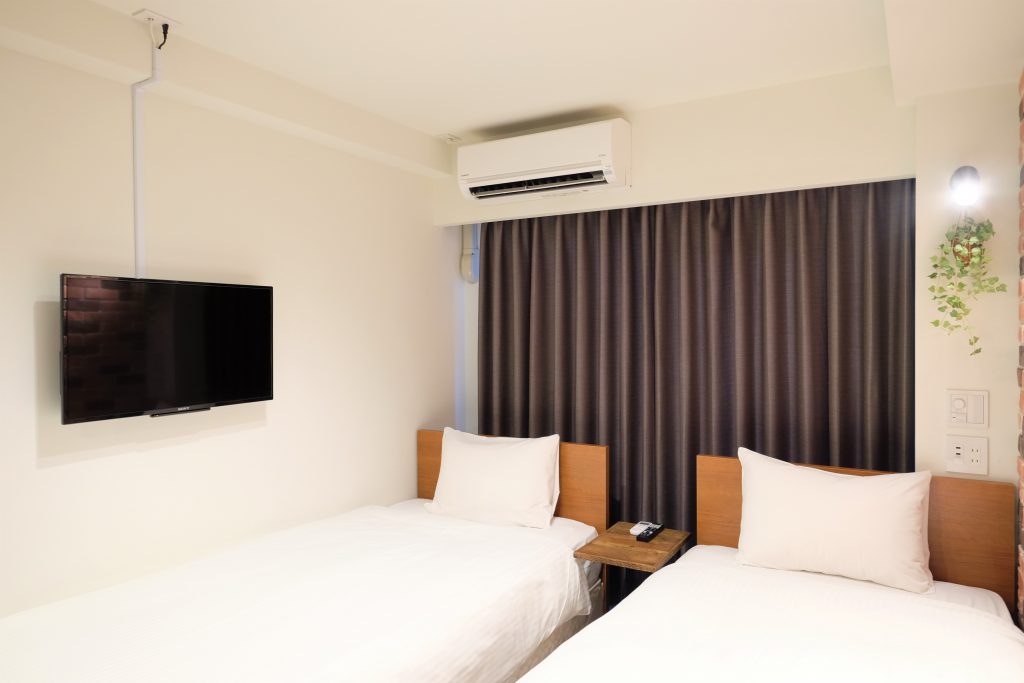 With the twin bed room, each guest will have their own bed to sleep soundly on.

Relax in the leather chair or write a letter to your mom about how great your Osaka trip is at the desk!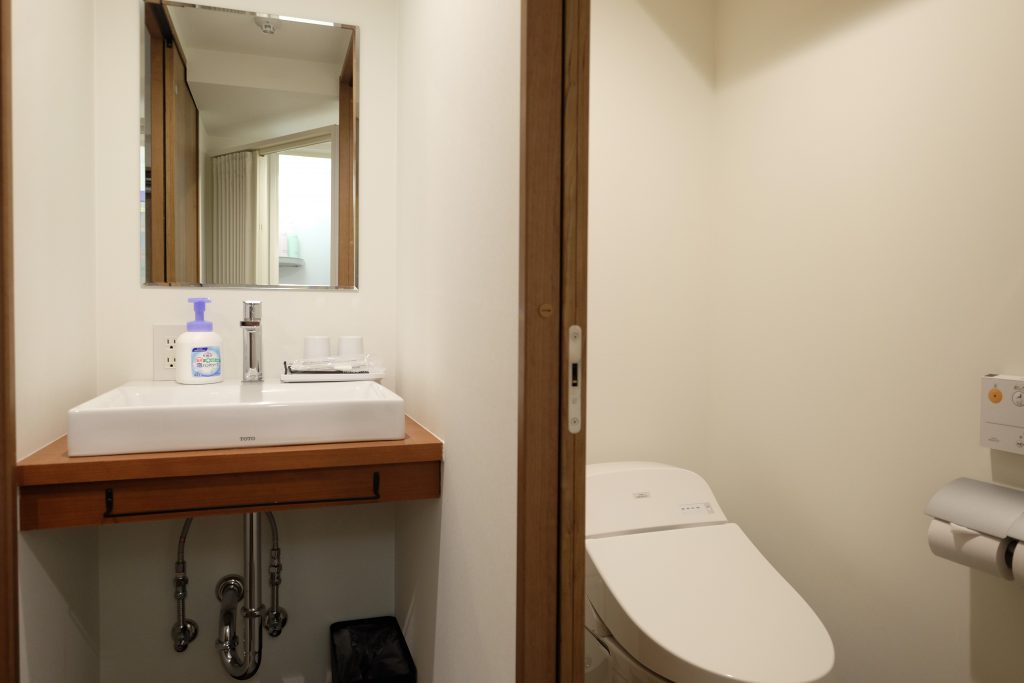 For your convenience, each room comes with amenities such a mini-toothbrush sets, towels, shampoo and conditioner. So, you'll have more space in your bag for goodies to bring home!
[Rich_Web_Tabs id="10″]
With the Osaka Amazing Pass it's easy to have a fun filled day in Osaka without spending too much. Now that's a bargain!