As a family sometimes it can be difficult finding the perfect room to stay in to meet your needs. At Ookini Hotels we have several family room types!
Why you should consider these family room types~~
1. We have rooms that can accommodate a large number of people comfortably!
2. These rooms have a kitchen (or a microwave and sink) so you can cook at any time. If you have a baby, there's no need to worry about how to heat up your little one's food!
3. Washing machines available in every room!
4. We provide a complimentary pocket Wi-Fi device to each room to use so you and your family can stay connected during your stay! And of course, each room has in-room Wi-Fi for free of charge.
5. No need to worry about the room size! In each room, you'll feel comfortable, just like home.
So, let's take a look at each room!
① Ookini Hotels Nipponbashi Apartment
Ookini Hotels Nipponbashi Apartment is only 10~30 seconds from Nipponbashi Station by walk, so you and your family can easily access the subway to go sightseeing! You can even walk to Namba, Dotonbori, and Shinsaibashi, making it a convenient location to stay at. Moreover, the nearest convenience stores are just as close for any emergency snack runs you may need to go on.

There are two different room types that can accommodate up to 4 or 6 guests. Moreover, if you have a baby, we are happy to provide a baby bath upon request!

At Ookini Hotels Nipponbashi Apartment for our guests' convenience, we have a front desk that is available around the clock to help with any of your questions or needs.
In the room itself, there is a full kitchen with utensils and dishes available for you to cook during your stay. Each room also has a bath for you to relax in.

No need to worry about having to go to bed at the same time–the bedroom and living room are separated so you can stay up or go to sleep whenever you want.

As our doors at Ookini Hotels Nipponashi Apartment use a smartlock system, there's no need to coordinate keys with each member. All you need is the password and you and your family can come and go freely as you choose!
– Standard Studio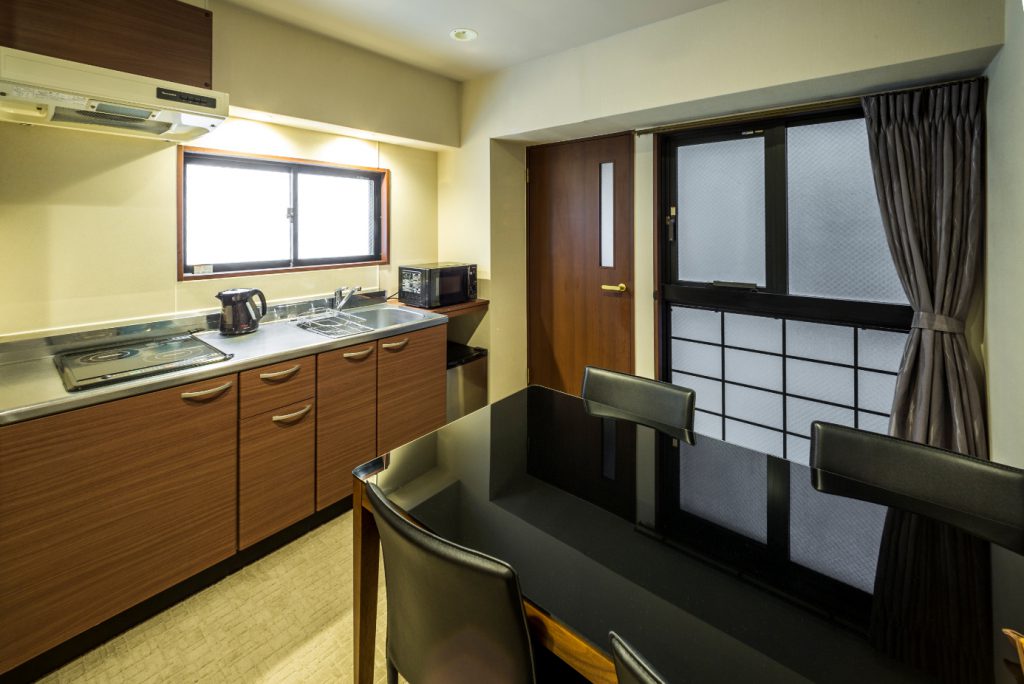 Cook meals in the full kitchen and eat comfortably at the table with space for four!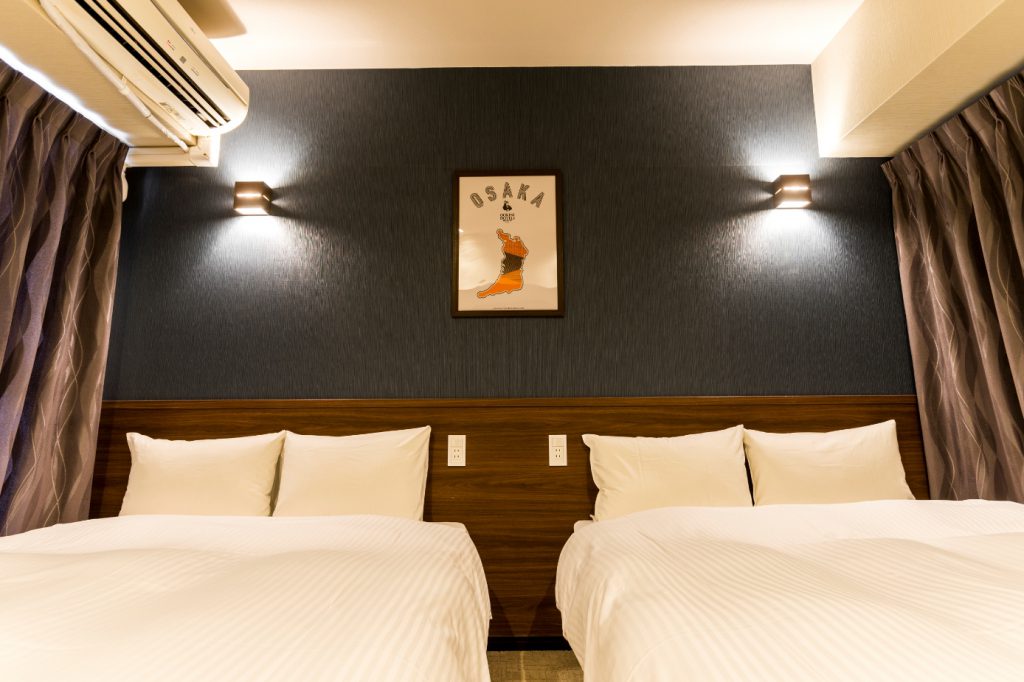 Two double beds – Get a great night's sleep!
– Superior Apartment (Superior Room)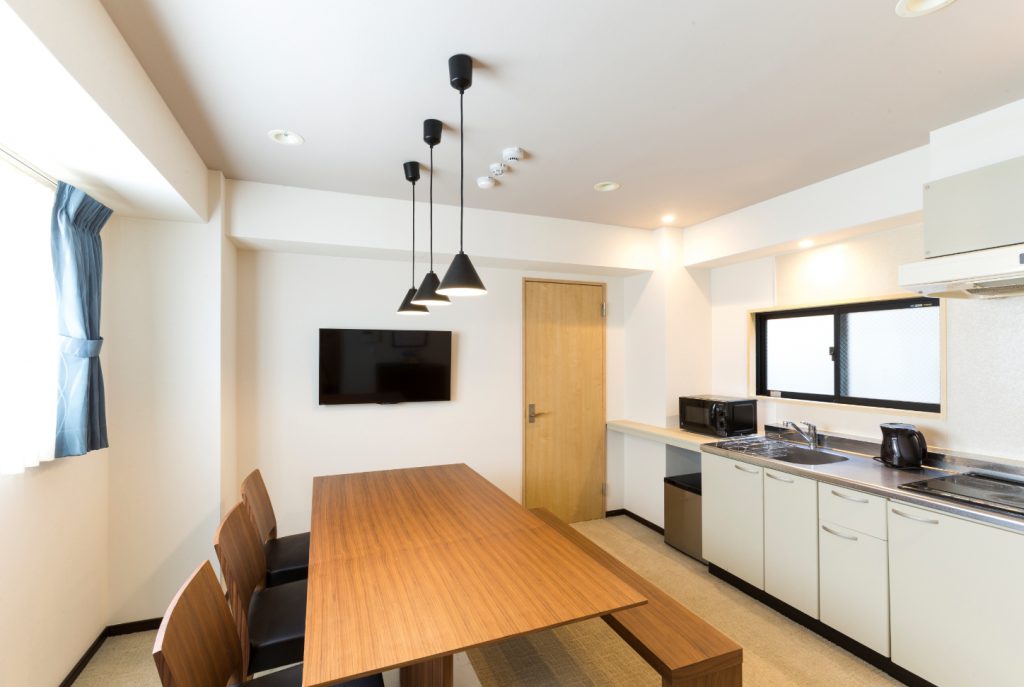 Enjoy cooking and relaxing in the kitchen and dining room!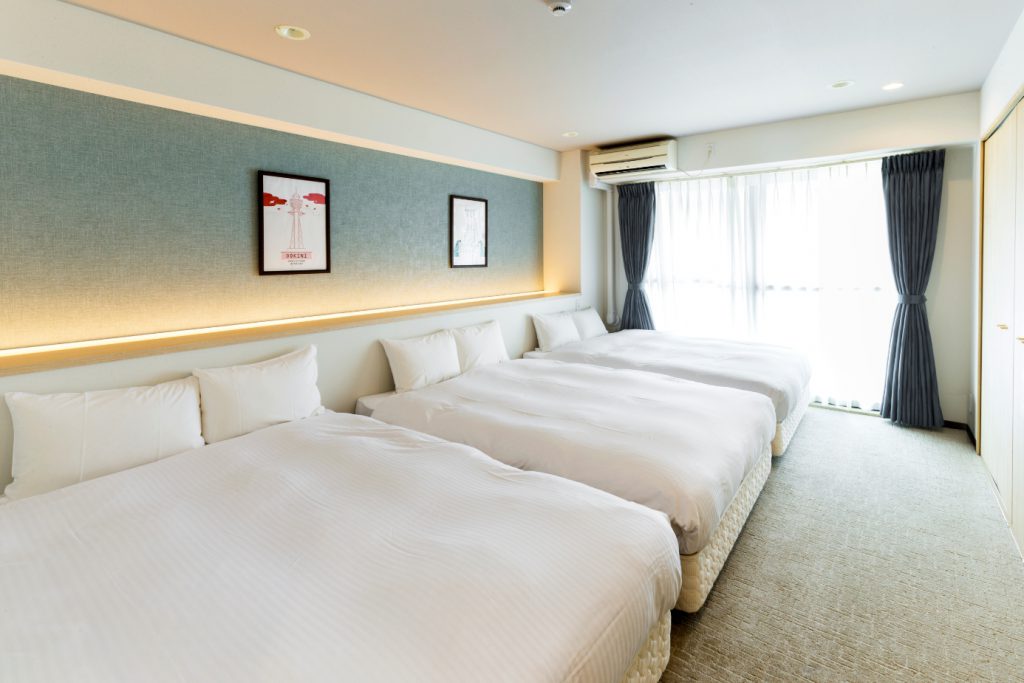 With 3 double beds, you and your family won't need to fight over space to sleep!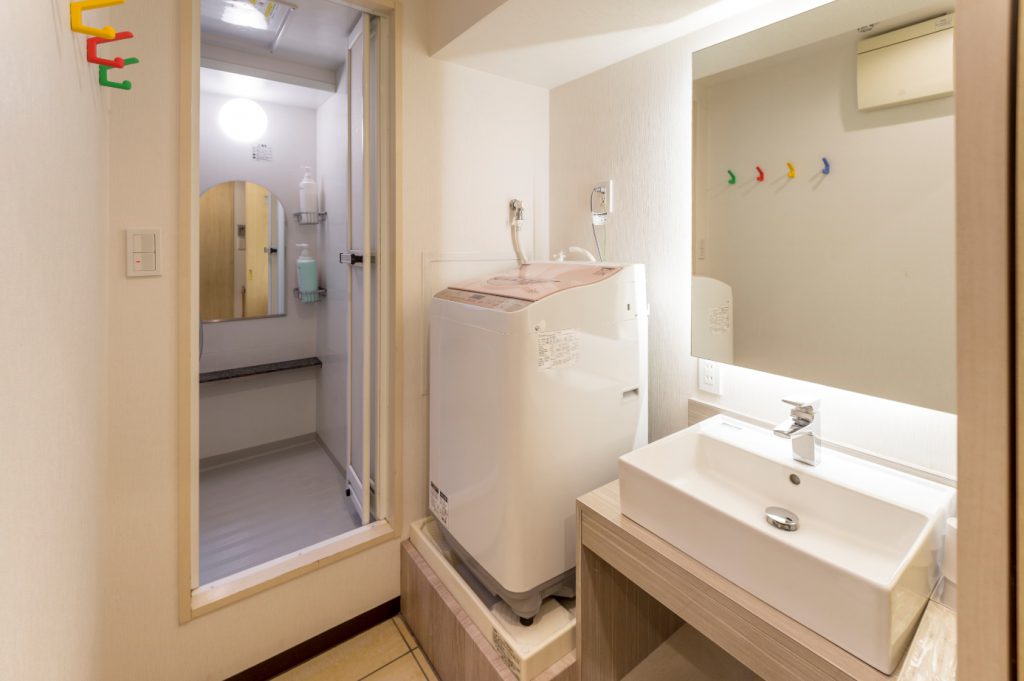 Each room comes with a washing machine.
②Ookini Hotels Shinsaibashi Nagahori Apartment
Just a short walk from Nagahoribashi station, you can travel anywhere easily from Ookini Hotels Shinaibashi Nagahori Apartment. If you love shopping, you can walk to Dotonbori or Shinsaibashi station or take the train–just one stop away! On the first floor, there is a convenience store (LAWSON)–super convenient.
These rooms are perfect for families of four: with 2 double beds or 2 queen size beds, a full kitchen, a lounge area and a bath you can feel right at home in these spacious rooms!!

One perk at Ookini Hotels Shinsaibashi Nagahori Apartment is our convenient self check-in/out process. It's easy and fast! No need to go to a front desk–you can go directly to the room upon your arrival.
This location also uses a smartlock system. Share the password with your family and everyone can go do their own thing–shopping, eating, sightseeing, grab a supper from the convenience store downstairs, whatever it may be! No need to designate one person as the key holder.
-2 Queen Beds with Kitchenette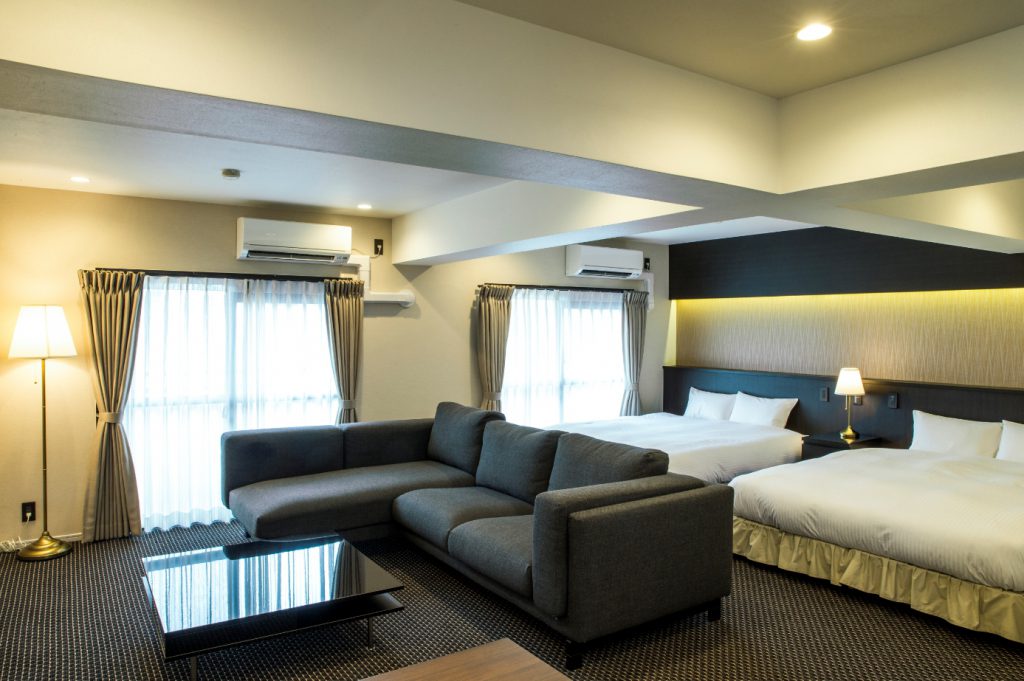 In Japan rooms can often feel a bit too small to fit your family–but here you will have space to relax, eat and sleep. Enjoy the luxurious feeling of sleeping on our extra large queen beds.

With this spacious kitchen, you'll be able to make all the food you want!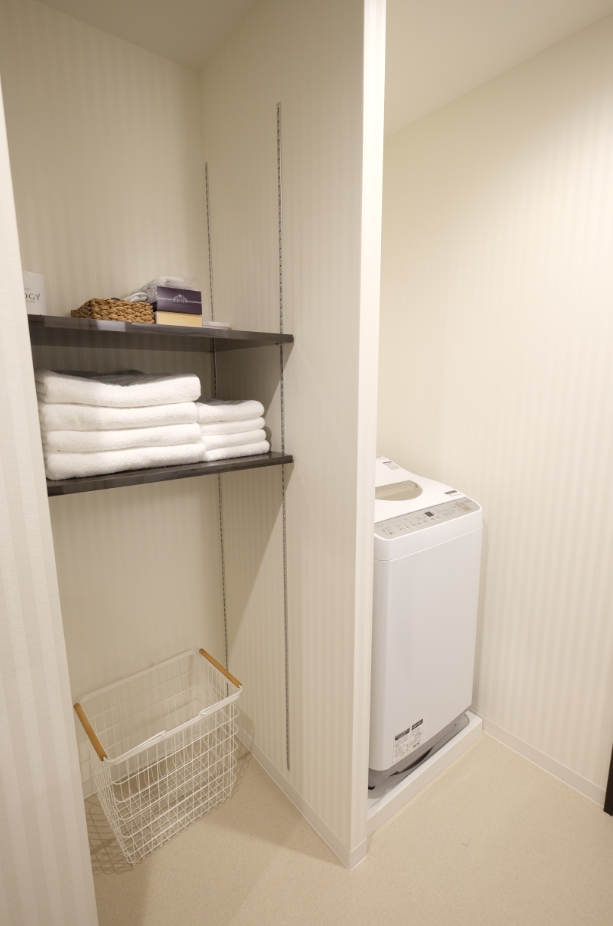 For guests with a long stay, you'll be happy to know there's a washing machine in each room that you can use!
– 2 Double Bed Room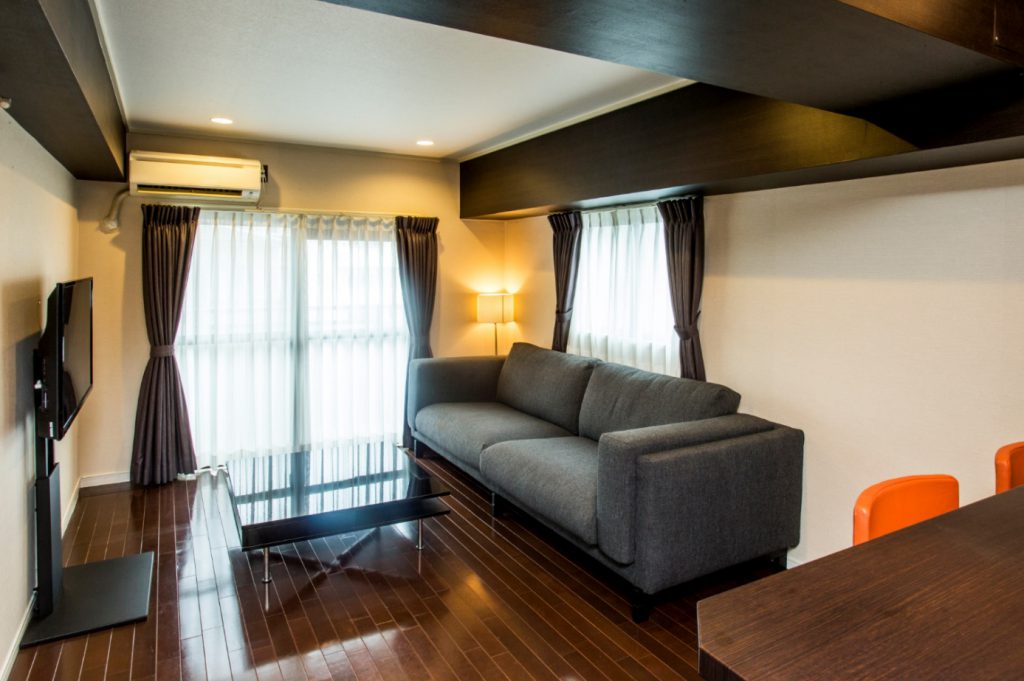 In this room type, the living room and bedroom are separate. Sleep, watch TV, and eat when you want–you don't need to worry about disturbing your family members in the process.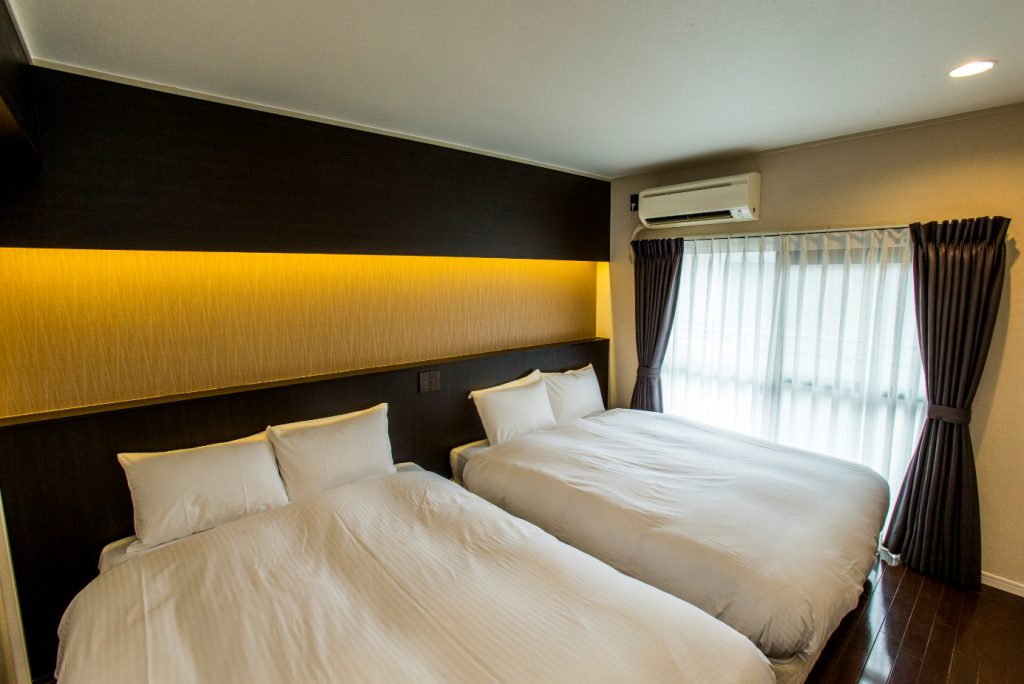 With two double beds, you'll have more than enough space to sleep comfortably.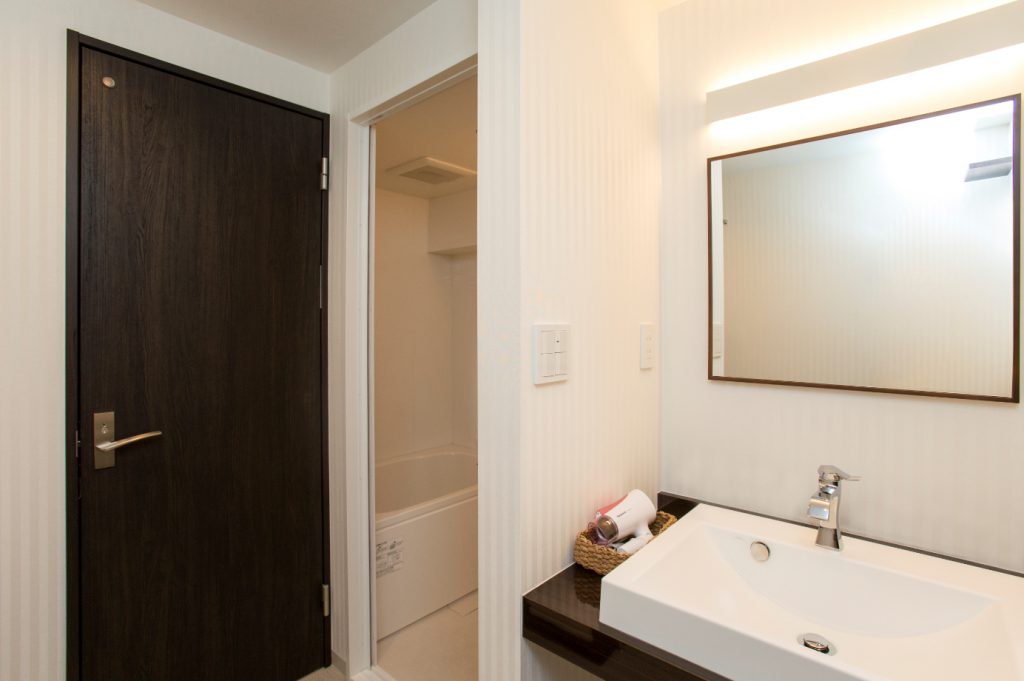 After walking around all day, relax in the bath!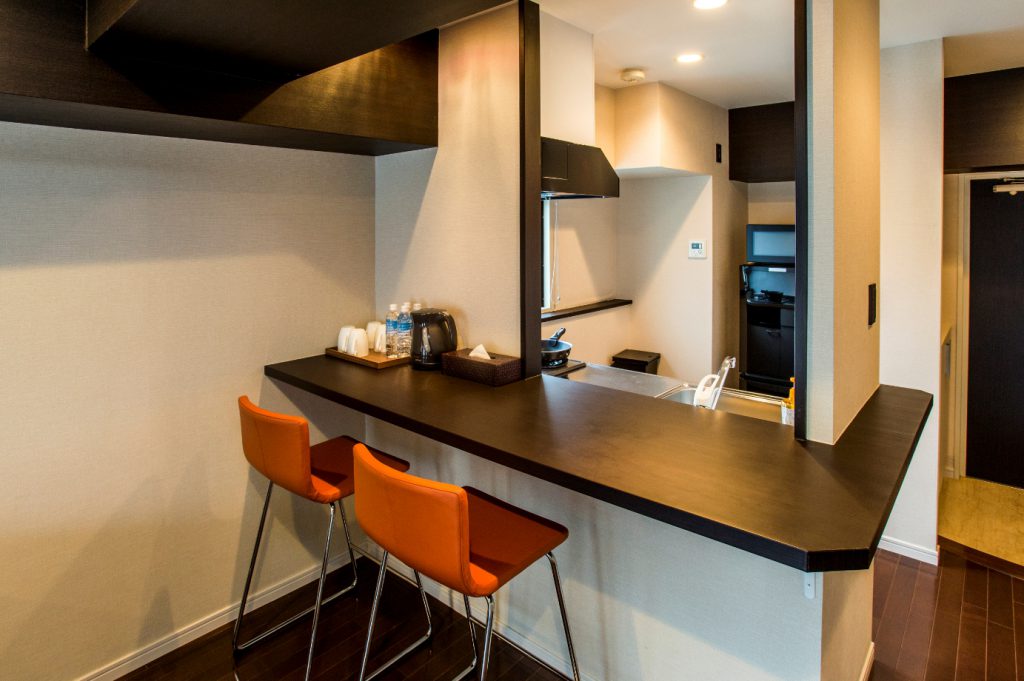 With this full kitchen, you can make dinner and also carry on the conversation with your family in the living area.
③Ookini Hotels Dotonbori Apartment
Lastly, we would like to introduce Ookini Hotels Dotonbori Apartment! Depending on the room, it can be booked either through Airbnb or other travel sites, giving you flexibility with how you book. These rooms can accommodate up to 4 members, making them perfect for larger families. In these rooms, you don't have the washing machine taking up unnecessary space, as they are located on the 10th floor. For your convenience, we provide self check-in and check-out service, so you don't need to visit the front desk and can save time.

This location is only about 5~7 minutes from Nipponbashi station, giving you great access to Namba, Dotonbori and Kuromon Market! If you love shopping, this is a great location to choose.

– 2 Double Bed Room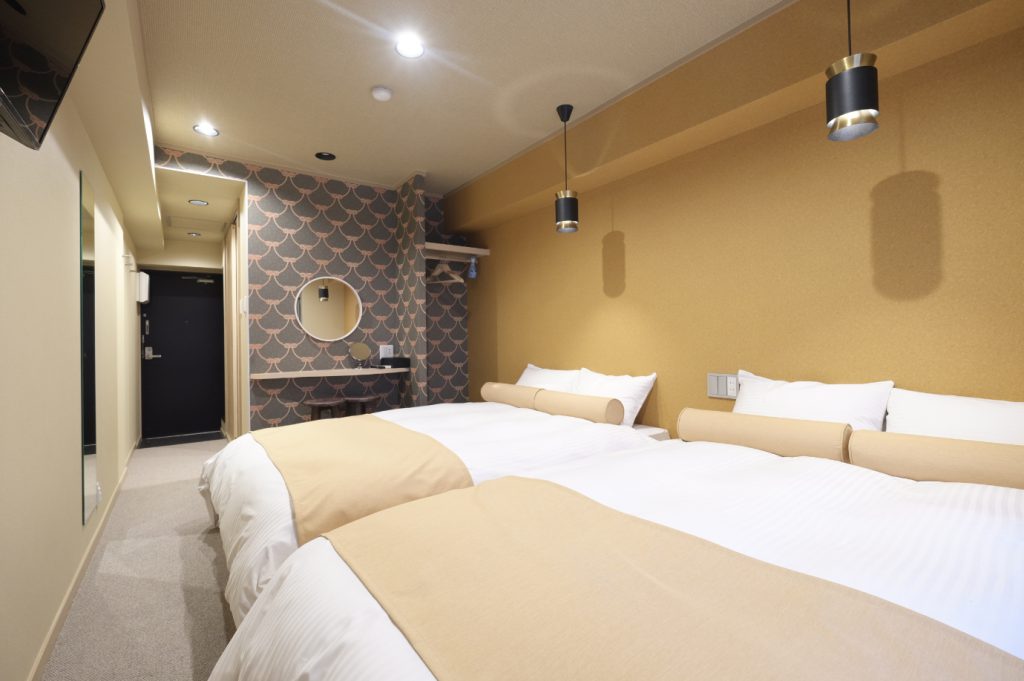 Each room has two spacious double beds.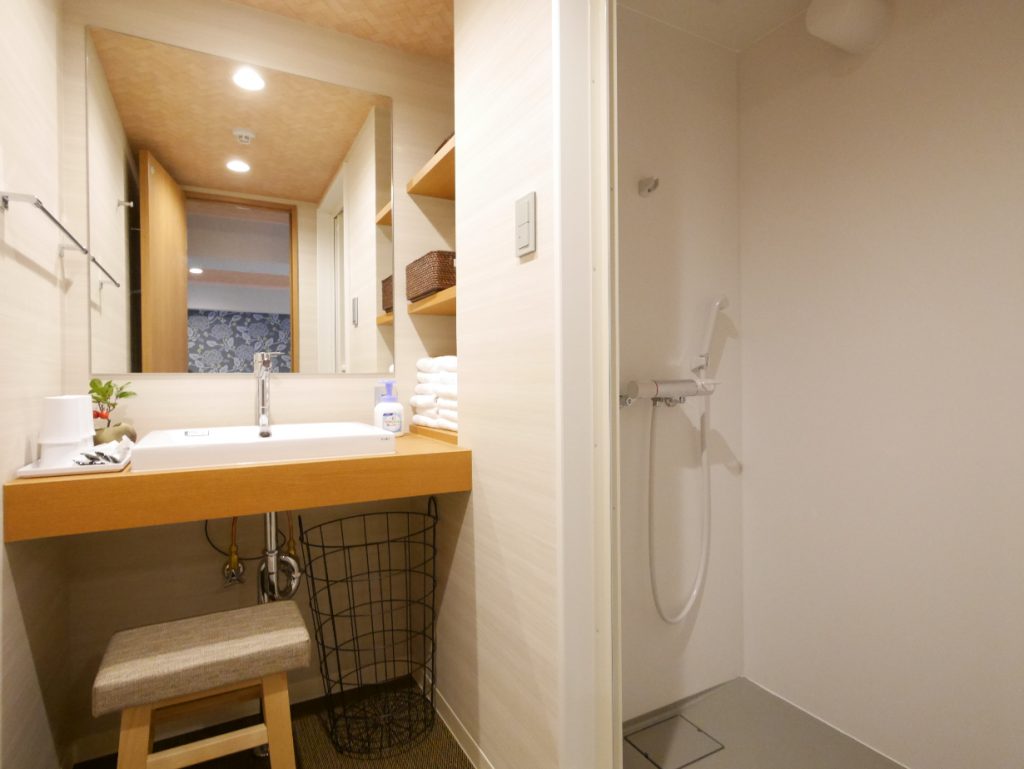 With a separate shower and toilet, there'll be no competition for the bathroom.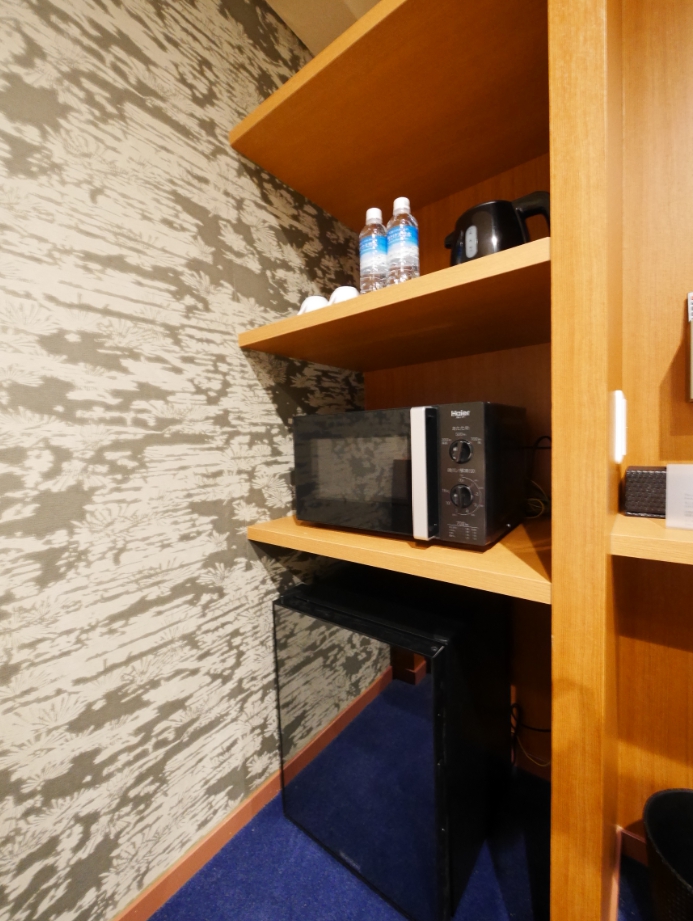 Each room has a microwave and mini-refrigerator for your convenience.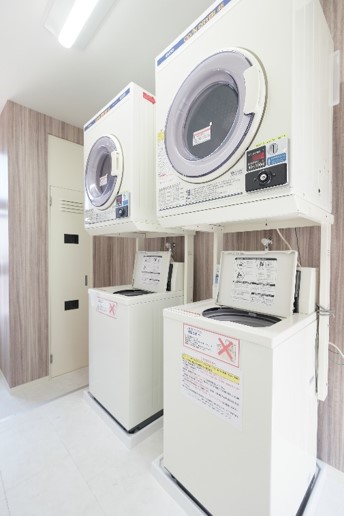 On the 10th floor, coin operated washing machines and dryers are available for use with English instructions available.
Washing machine: 200 JPY per wash
Dryer: 100 JPY / 40 minutes