Rather than sightseeing at the regular spots that everyone goes to, perhaps you're more interested in trying out more spiritual spots? Even better, maybe you want to see spots that aren't well known even with the locals.
But where are these hidden gems? The shrines that not many know about?
Take a look!
1.Nunose Shrine 布忍神社
This shrine is starting to become more well known through Google advertising.
So we recommend you go now while it's still little known to beat the crowds!
At this shrine you'll want to check out the 恋みくじ (koi mikuji – love fortunes slip). In fact, it's said that once you get one–you'll want to get more!! At the shrine they are popluar for being interesting and they even make people want to post them on Instagram.
But why? They don't even have much written on them! Normal mikuji have thin lettering with lots of information. The koi mikuji at Nunose Shrine have simple, bold letters with one sentence giving advice about love.
What could be so interesting about the koi mikuji??
Take a look for yourself!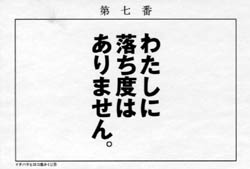 ① 人は見かけ
You are judged by how you look!
②わたしに落ち度はありません。
I have no faults.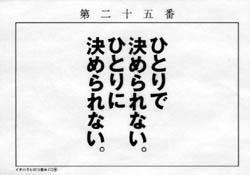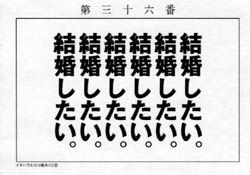 ③ひとりで決めれない。ひとりに決めれない。
I can't decide by myself. I can't decide on just one.
④ 結婚したい。結婚したい。結婚したい。 結婚したい。結婚したい。結婚したい。
I want to get married. I want to get married. I want to get married.
I want to get married. I want to get married. I want to get married.
Photo credit:布忍神社
So, why does Nunose Shrine offer this strange love fortunes slip (koi mikuji)?
The chief priest explained that most people get mikuji and only read whether it's good luck or bad luck.
They wanted mikuji that had an impact and really speak to the reader.
For this they asked Ichihara Hiroko, a visual artist, to create the koi mikuji.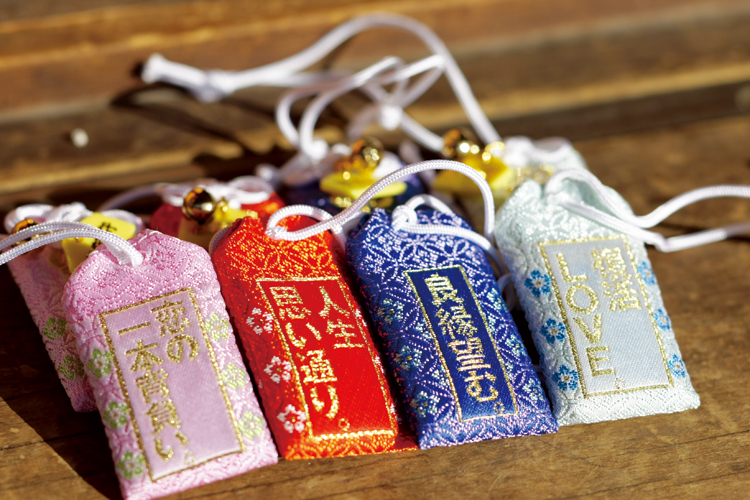 Photo credit:嵐最新情報.net/
Koi mikuji aren't the only offbeat things you can get at this shrine.
There are also good luck charms (omamori) with funny sayings like "looking for love" and "one shot of love."
It'll surely bring a smile to your face–and possibly make anyone who sees it laugh.
*The direct translation of "one shot of love" is "love's one-armed shoulder throw" where a one-armed shoulder throw is an old sumo love.
Love hurts.
*Please be aware: the spot where you can buy the koi mikuji is called a "juyojo" and it is closed sometimes.
2. Samuhara Shrine サムハラ神社
The ring that's difficult to obtain: "Good Luck Ring"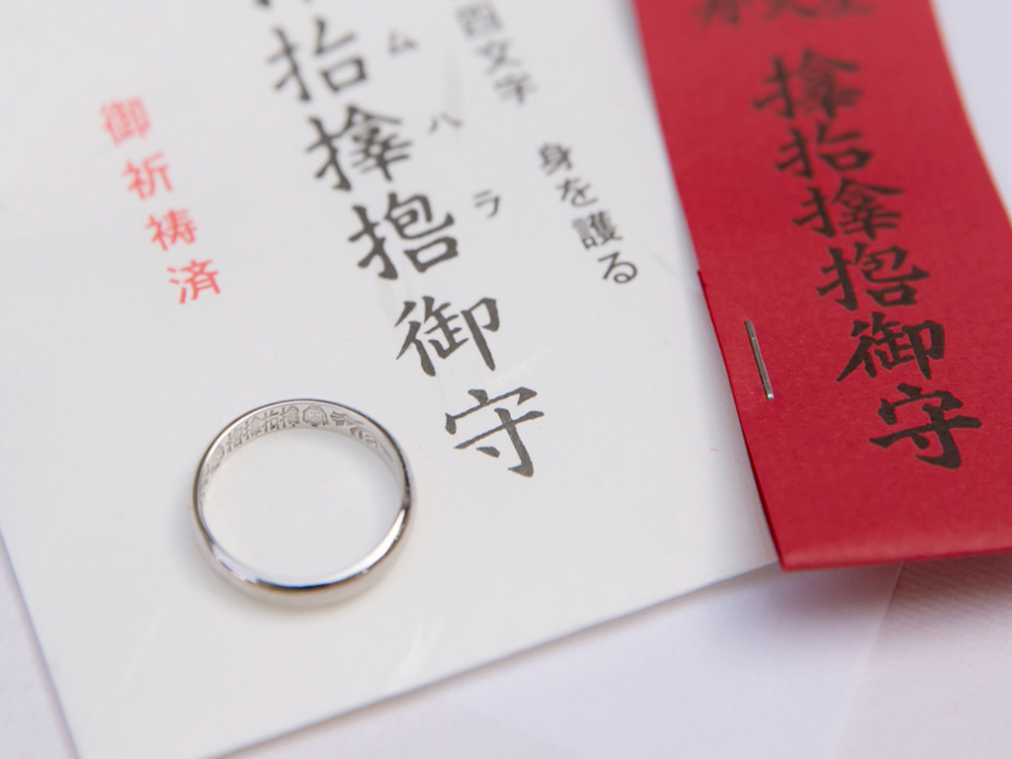 画像の出典:るるぶ&more
In Japanese, Samuhara is only 4 characters that may seem a little strange upon first glance if you don't know the meaning: サムハラ
It is said that these characters written in kanji can provide protection and are engraved on the back of the ring.
Moreover, in the past, it was said that if you sang "samuhara, samuhara" or if you wore the word on your body, then not only would you feel good, but also you'd be protected from difficulties and disasters. The face of God is also drawn between each "samuhara"。
So, why would this shrine become popular?
The ring is difficult to obtain in any size!!
Can you guess how much the "Good Luck Ring" would cost?
3000 JPY!
Why so expensive??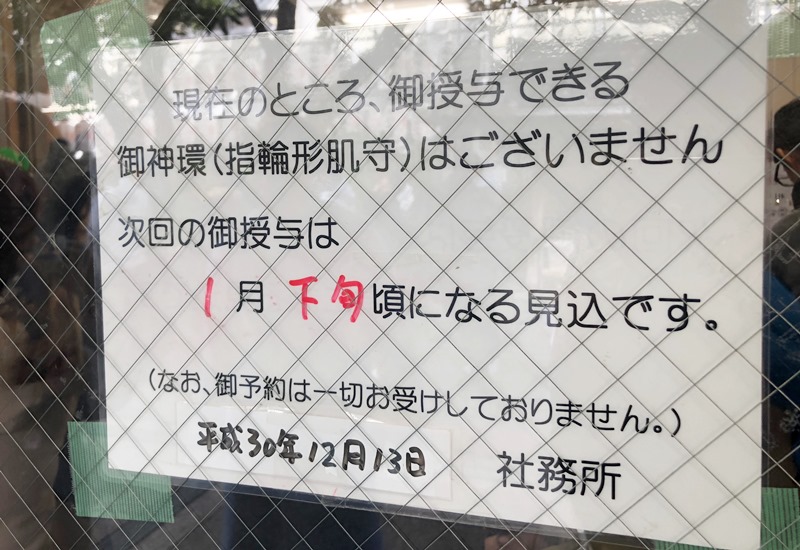 画像の出典:神社めぐり.com
The rings are awarded about twice a month and are likely to arrive around the middle of the month and the end of the month–however because they are handmade, the date of arrival is not fixed! Once they do arrive, however, if they're not sold out the same day, they will be gone by the next morning.
As the rings are handmade, large quantities cannot be awarded at once.
If it is the wrong size, you shouldn't wear it. It's not considered acceptable to put it on a necklace and shrine will not make any size adjustments.
You may be wondering just how popular these rings are… well just check out their second-hand pricing!
https://www.mercari.com/jp/search/?keyword=サムハラ神社 指輪
How does one get their hands on this ring?
It's not possible to make a reservation or mail order, so it's really just about your luck with timing.
The shrine may post the next arrival date at the entrance, so check it out.
And of course, you can call the shrine and hope that they'll have your size.
Good luck getting your good luck ring!!
3. Abe Seimei Shrine 安倍晴明神社
…Wait? Isn't that in Kyoto??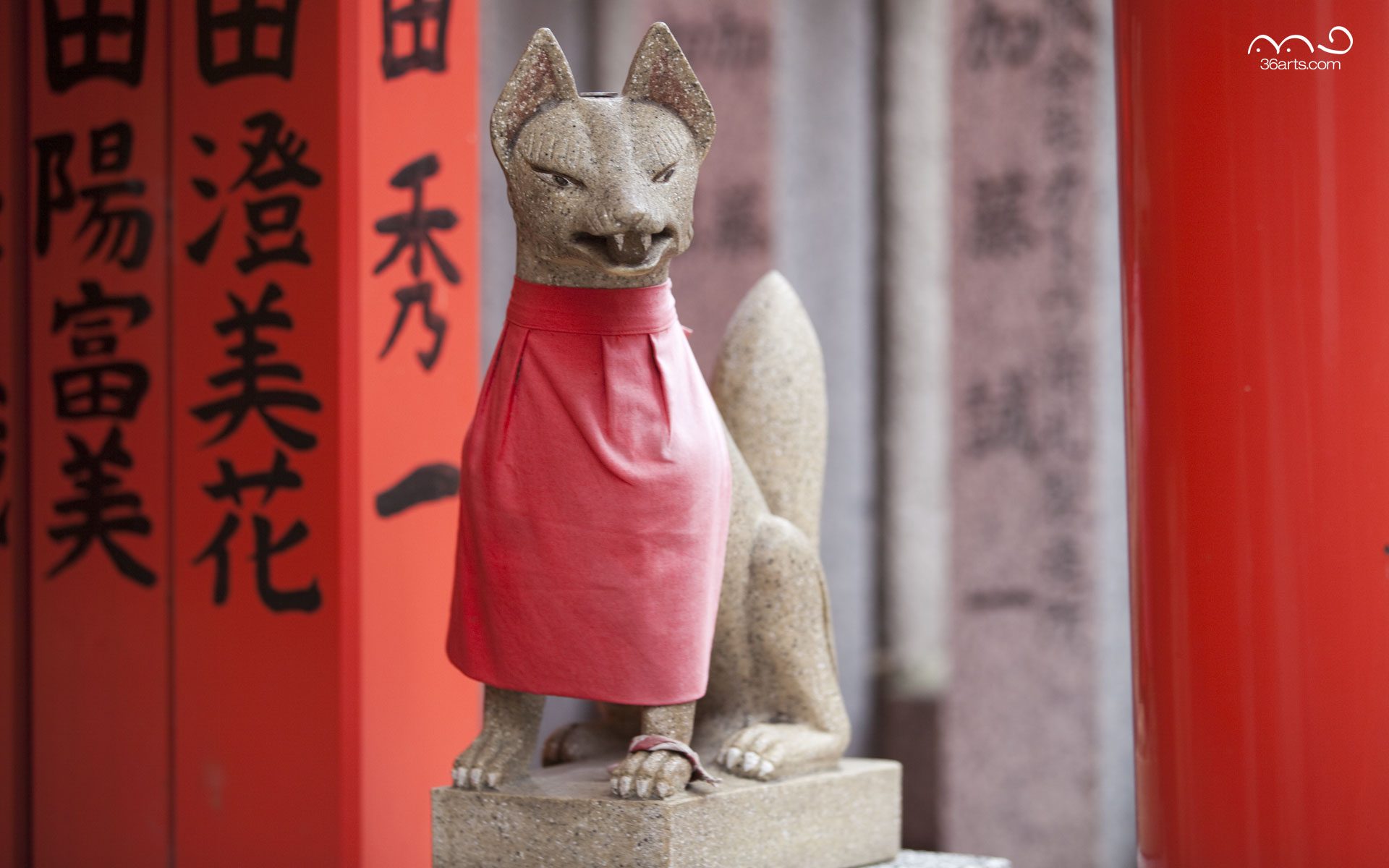 Photo credit: 36arts.com
What's different between the Kyoto Seimei Shrine and the Abe Seimei Shrine?
This shrine is dedicated to the famous Yin Yang teacher, Abe no Seimei, who is enshrined here. But the more famous location is in Tokyo. In fact, the Seimei Shrine in Kyoto is his home while Osaka's Abe Seimei Shrine is considered to be his birthplace.
At this small shrine you can see things like:
The monument of Abe no Seimei's birthplace
Traces of the well where he was said to have taken his first bath
Statue of Abe no Seimei
This place is a must for anyone interested in Yin Yang!
As it named after Abe no Seimei who was a master of fortunetelling, there is naturally a fortune telling area at the shrine! Every day the fortune teller will change: find out your destiny through the four pillars of destiny, tarot cards, feng shui and so on!
The fee for fortune telling is starting from ~2000 JPY for one time. Each time, you may go into a private room and consult with the fortune teller without any rush. Thus, you'll be able to have a very personal experience getting your fortune told.
Abe Seimei Shrine is right next to the Abe Ouji Shrine so why not kill two birds with one stone and go see both?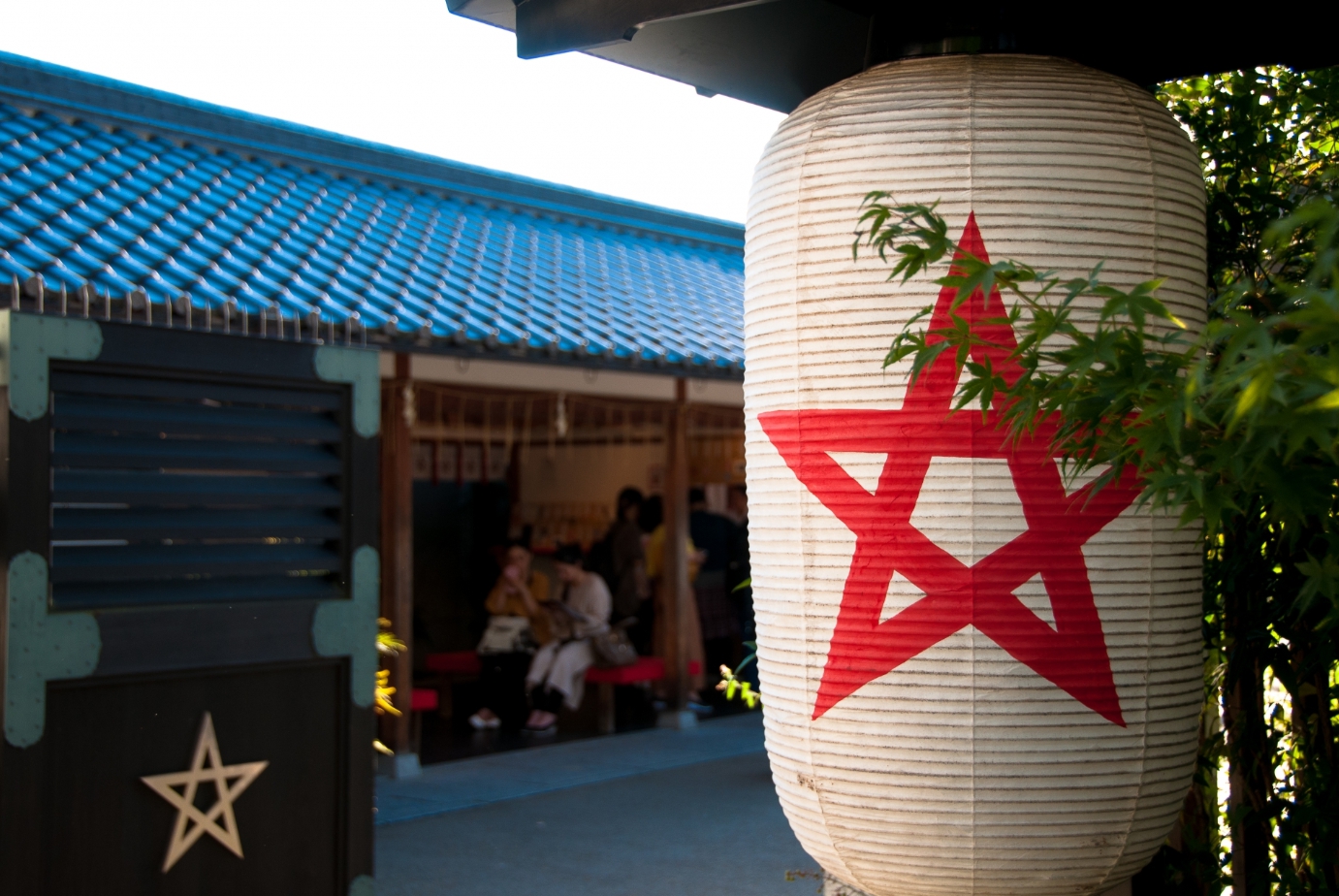 The pentagram is the "Yin Yang Way" which is an amulet to ward off evil. Sometimes, in order to ward off evil, you may even see this pentagram amulet on a car as well. Not only that, but it is said to have benefits for marriage as well!
So how about it? Try out these shrines during your stay in Osaka!
Source of Cover Image: blog-imgs-68.fc2.com