Last year we introduced to you some well known, classic spots to go view the autumn leaves.
If you're looking for a good jumping off point, check-out that blog ( We have updated the links & information so it will be up to date for this year! ):

Now that you know the basics… why not delve a little deeper? You can get in touch with nature and see the beauty of autumn at our top three picks for lesser known spots to see autumn leaves!

– The Forecast for This Year –
It doesn't matter if you know all the best spots if you go at the wrong time. First and foremost: what's the situation? When's the predicted best time to go hunting for fall leaves this year?
The Japan Meteorological Agency doesn't just deliver the weather forecasts, they also provide some of the most up to date fall foliage forecasts as well! So, whether you want to see the reds or the yellows, make sure you know the best time to go.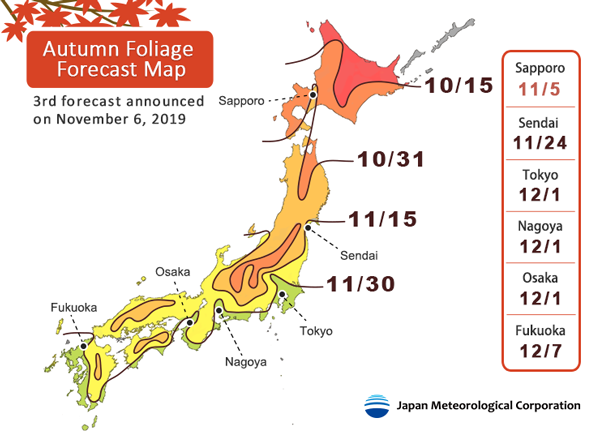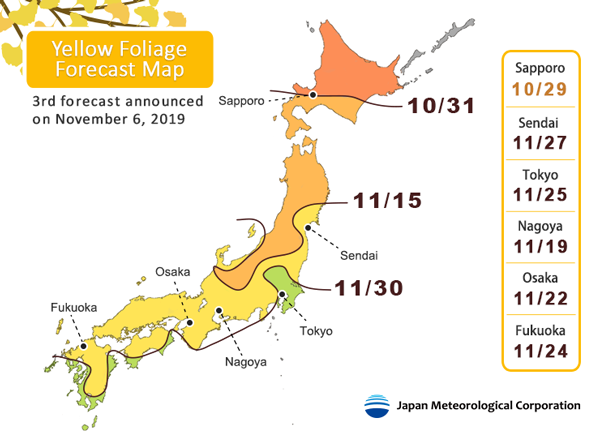 **For more info: "Release of 2019 Autumn Foliage Forecast (2nd forecast)"(Announced on November 6, 2019)

This year the autumn leaves may be a little bit later in changing, as autumn is expected to be a bit warmer than most years!

With that in mind, here's what the prediction is for West Japan:
– Red Leaves:
Predicted Period: Normal or a little later than normal. In the mountains, the reds are expected to be showing fully from late October to late November, and in the plains from late November to mid-December.
Expected Best Date: Osaka – December 2nd, Kyoto – December 9th


– Yellow Leaves:
Predicted Period: Normal or a little later than normal. In the plains, the yellows are expected to be showing fully from mid-November to early December.
Expected Best Date: Osaka – November 23rd, Kyoto – November 26th


– 1 Day Sightseeing Plans: Enjoy Fall to its Fullest –
If you're going to go out of your way and out of the city to see the fall leaves, it's a no brainer that you'll want to have a full day planned to enjoy fall to its fullest! We have three separate sightseeing plan ideas with just that in mind.


Sightseeing Plan ①: Mt. Inunaki 犬鳴山(いぬなきさん/いぬなきやま)
Mt. Inunaki is a sacred place for Shugendo, Japanese mountain asceticism. The temple at Mt. Inunaki was founded 6 years before the one at Mt. Omine.

In the surrounding area, there are 48 waterfalls, both large and small. Among those, there are 7 waterfalls which are famous. On top of the waterfalls, Mt. Inunaki is blessed with a wonderful landscape made from the mountains and valleys.


-Stop 1: Shippouryu Temple 七宝瀧寺(しっぽうりゅうじ)
First stop: fall foliage. Let's start the day off by taking in the colors of fall. From Mt. Inunaki bus stop to Shipporyu Temple, it's about 1.5 kilometers (about 40 minutes on foot).
There you'll find Shipporyu Temple surrounded by mountains. It's said to be the oldest sacred place in Japan. And yet, admission to the temple is completely free. Recently it's come into the spotlight as a great place to visit, with more tourists and students visiting.


-Stop 2: Gyoja-no-Taki (Gyoja Waterfall) 行者の滝
You can't visit Mt. Inunaki and not check out a waterfall! Only a short walk from Shipporyu Temple, you can enjoy the autumn foliage with the backdrop of a waterfall in no time.
Gyoja Waterfall is known for its spiritual power as well–making it a spot that people come from all over to visit. Here you can see practitioners of Shugendo standing under the waterfall and feeling its force. For the general public, there is a 1-day course to study Shugendo available, which even has many female and foreign participants.

**Visitors may also participate in a 1-day Shugendo Experience.
It's quite famous among female visitors and also foreign tourists.
-Stop 3: Mt. Inunaki Onsen 犬鳴山温泉
After getting your fill with the autumn leaves, it's time to return to the bus stop and go home… just kidding. The day's not over yet! You've walked all day so what better way to refresh yourself and your sore muscles than to take a dip in an onsen? You can relax and rejuvenate your weary body in the onsen, and fill your empty stomach with a meal. Mt. Inunaki Onsen is the only onsen in Osaka that's said to be a "hitou" or secret onsen–an onsen in a secluded area.


Famous as a sacred place for Shugendo, Mt. Inunaki has a mysterious quality that you won't find anywhere else. You can enjoy a day hiking, surrounded by the vibrant reds and yellows of the fall foliage to take it all in.


Sightseeing Plan ②: Mt. Ushitaki 牛滝山(うしたきさん/うしたきやま)
Next up, a spot that has been popular for fall foliage since the middle ages: Mt. Ushitaki! You can find this natural beauty located at the border between Osaka Prefecture and Wakayama Prefecture. On top of the beautiful fall leaves there are old temples, mountain streams, waterfalls, and more, making Mt. Ushitaki a popular spot for hiking!


Here the autumn leaves usually begin to turn around late October and are best viewed from mid- to late November. Thousands of maple trees completely cover the temples, and the old burial mounds take on new and beautiful colors during this time.

-Stop 1: Daiitoku Temple 大威徳寺
Hop off the bus and head towards Daiitoku Temple~!
Within the temple grounds, your eye will surely be drawn to the Taho Pagoda, built in the Muromachi Period–an important cultural property for sure. Painted a bright vermillion, this pagoda will stand out even with the beauty of the fall foliage.
The red of the pagoda will play off of the reds and yellows from the autumn leaves, a beautiful scene that you will just have to see for yourself. After you pass the temple grounds, you'll be greeted by another wonderful sight: a waterfall.
If you want to take in the scenery, you can enjoy the hiking course that extends all the way to the summit.


-Stop 2: Ushitaki River 牛滝川
If hiking is more strenuous of an activity than you're looking for, how about taking a leisurely walk surrounded by the reds of fall. With the fresh air and beautiful scenery, you'll feel your spirits refreshed. 4 waterfalls are within a short distance, so you can enjoy the scenery regardless of how long you walk.

-Stop 3: Jizou Mountain Trail 地蔵さん登山道
From the Kinryu Waterfall, you can follow the cobbled path to start your hiking journey–and climb all the way to the summit of Mt. Izumi Katsuragi. Every 109 meters, there is a figure of the Jizo Bodhisattva (aka Kṣitigarbha) from Daiitoku Temple all the way to the summit. In total from start to finish, you'll find 31!


-Stop 4: Katsuragiyama Observatory 葛城山展望台
When you reach the summit, you can enjoy a 360° view from the tippy top at Mt.Izumi Katsuragi Observatory. A new way to enjoy the fall foliage! Your view will extend all the way to Kansai International Airport and the Senan area. A spectacular sight to see!

If you enjoy hiking and want even more of a challenge: Mt. Izumi Katsuragi and Mt. Inunaki are connected. You can try hiking from one to the other!

Sightseeing Plan ③: Myoken no Mori 妙見の森
With many historical shrines and attractions, hiking, cable cars, and more, Myoken no Mori has something for everyone.
In spring, cherry blossoms.
In summer, barbecues.
and in fall, fall foliage of course!
Every season there's something to enjoy at Myoken no Mori.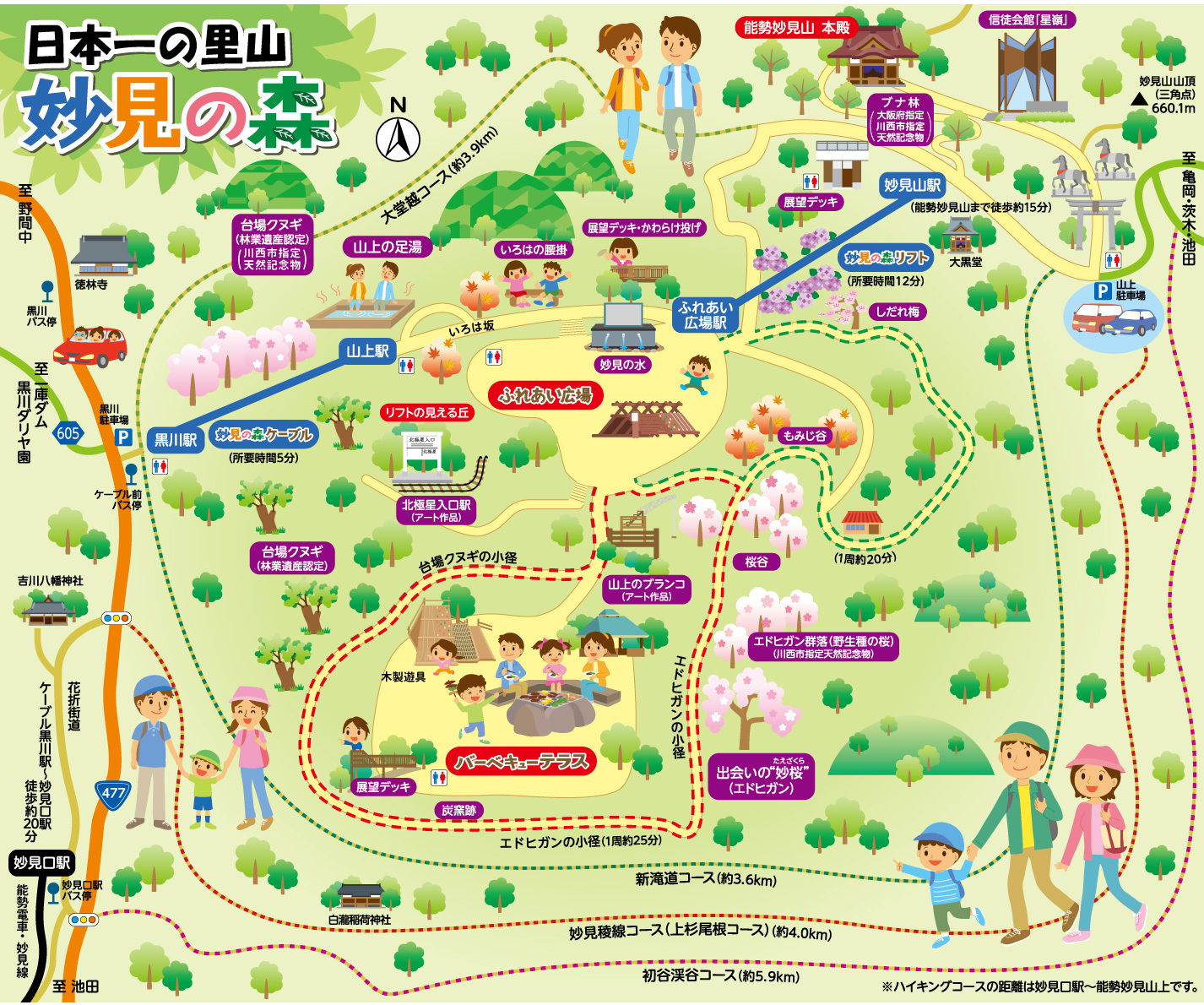 Source of Image:Myoken-no-Mori Guidebook
-Stop 1: Myoken-no-Mori Cable & Chairlift 妙見の森ケーブル&リフト
Here's what sets Myoken-no-Mori apart from the rest.
Once you get to Myokenguchi Station, you can take the bus or walk to Myoken-no-Mori Cable Car (Kurokawa Station) boarding zone.

There you can take a cable car all the way to the top of the mountain (Sanjo Station). No leg work needed! Just relax and enjoy the view as the cable car brings you higher and higher in the sky.
Despite being over 600 meters long, it only takes 5 minutes to get to the top! Each season you can enjoy a new view that looks like it came straight from a postcard.


-Stop 2: A Mountain Top Footbath 山上の足湯
While you may not have hiked all the way up to the top, it's always a good time to treat yourself to a footbath! And it's easy to find, just step out of the cable car and you'll find the spot right there.
Soak your feet and enjoy the view from the top of the mountain. Can you imagine anything more wonderful than that?

-Stop 3: Myoken-no-Mori Chairlift 妙見の森リフト
After enjoying the view from the cable car and also the art of , you can take the chairlift up to the Myokensan Station.
The chairlift takes about 10 minutes, giving you a panoramic view of Osaka Bay. As you're in a chair rather than in the car, you can feel closer to nature than ever before. Floating through the air as you take in the cherry blossoms, hydrangea, and fall foliage depending on the season. In fact, you can enjoy the reds and yellows of the leaves as well as enjoy vibrant cosmos in the fall!

-Stop 4: Take in the Satoyama (Mt.Sato) View 里山景観
After visiting Myoken-no-Mori's Satoyama (Mt.Sato), you can say you've seen one of the best countryside views in Japan!
What entails a Mt.Sato view? Mt.Sato is a mountain that's regularly harvested for food and fuel such as charcoal and firewood. Thus, when you look at it it looks like a patchwork: old and new making a beautiful mosaic. Most satoyama areas are no longer in use as harvesting has been discontinued. However, the tradition still lives on–giving you a unique opportunity for a spectacular view.


-Stop 5: Nose Myokenzan 能勢妙見山
Nose Myokenzan a temple under the Nichiren Buddhist sect. In fact, it is considered a global holy place for faith in Polaris, the North Star. The view from the top of Mt.Myoken is unbeatable, especially at night as the stars come out and the plains of Osaka spread beneath you.