Spring is on its way and you know what that means–seasonal spring dishes that you've just got to try!!


Fish of Spring
➀Ishidai – Striped Beakfish

In Thailand, striped beakfish are the largest and strongest fish, but recently the numbers have decreased due to overfishing. So it's actually quite rare to see it in supermarkets these days. It's an unusual fish that is not often found served at home in Japan.



If you want to get a taste of this rare fish, spring is the best time to do it. The stripes are its distinguishing feature–but did you know that the stripes only appear on the young fish? Once they grow up, the stripes fade away!


②Torigai – Japanese Egg Cockle

You can find this mollusk all year round in restaurants, but usually, it's stored frozen. The best season for Japanese egg cockle is from spring to summer–when you can eat it fresh! It's also meatier, sweeter, and all around more delicious.


③Asari – Japanese Littleneck Clam
This shellfish is quite big in Japan. It's available year-round, but, just like torigai, best enjoyed in spring. A simple reason: that's when the clams are spawning.During this season they are nice and fatty with a wonderfully chewy texture. Clams are actually more nutritious than fish because you eat everything except the skin–thus, absorbing more nutrients with every scrumptious bite.

④Mebaru – Black Rockfish



This fish can be found from Hokkaido to Kyushu, but depending on the region its colors may change. At the supermarket, you may often find this fish as red. Usually, the red variation is found around Kyushu and the sea of Japan!
Because there is little fat, it has an exquisitely light taste that you'll just have to try for yourself. This fish can be eaten in all kinds of ways: soup, fried, boiled, sashimi–you name it!
⑤Madai – Red Sea Bream
Out of all the sea bream, red sea bream is said to have the best color, shape, and, most importantly, taste! In Japan red sea bream is the best fish to have for happy occasions.
The spawning season is from spring to summer, which means the fish are nice and fatty during this time. It's such a symbol of springtime that it's even called the "Sakura Sea Bream"!
If you love seafood and want to try out these fish & shellfish, we know some restaurants you may be interested in going to during your stay here in Osaka!
Check it out down here!↓↓
Restaurants
●磯一 江坂店 (いそいち) – Isoichi (Esaka)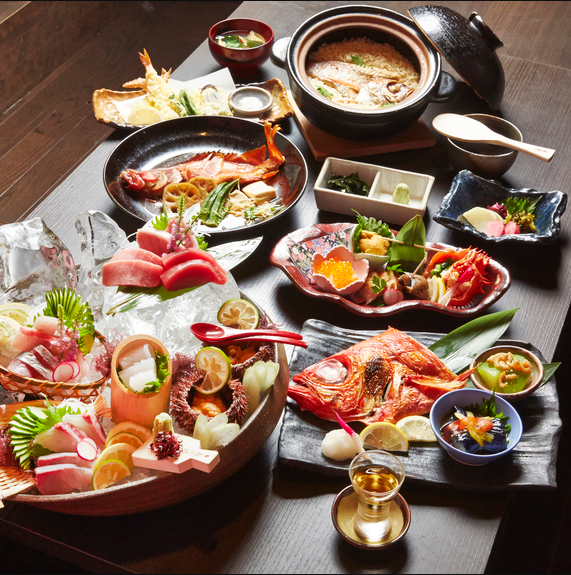 Fresh fish shipped from ports throughout Japan! Your tastebuds can travel across the country as you try fish from throughout Japan, all while staying right here in Osaka! Please come here to get a real taste for fish throughout Japan.



Address: 1F, 15-17 Toyotsucho, Suita-shi, Osaka
Nearest Station:
– Esaka Station (Exit 8)
– Midosuji Line – ~4 min. on foot
Hours: 17:00-24:00 (Last Order: 24:00), Monday~Sunday
Closed on: N/A (Please check with the shop before going)
Tabelog Website: https://tabelog.com/en/osaka/A2706/A270602/27008520/

●– 多満喜 (タマキ) – Tamaki



While it is not a huge shop, it's a great place to thoroughly enjoy all kinds of seafood. It's a fine example of Japanese style food, carefully prepared with every dish. An experience you won't want to miss during your stay in Osaka.



Address: 3-1-7 Minamisemba, Chuo-ku, Osaka
Nearest Station:
– Shinsaibashi Station – 6 min. on foot
– Nagahoribashi Station – 7 min. on foot
– Sakaisuji Honmachi Station – 9 min. on foot
– Honmachi Station – 9 min. on foot
Hours:
– Lunch: 11:30~14:00, Monday~Friday
– Dinner: 17:30~23:00 (Last Order: 22:30)
Closed on: Sundays & holidays
Tabelog Website: https://tabelog.com/en/osaka/A2701/A270201/27044765/